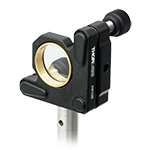 Click to Enlarge
SM1S6M optic spacer used to mount an
EBP1
economy beamsplitter in a
KM100
mirror mount.
Features
Place Multiple Optics in Series
For Use in an SM1 Lens Tube
Can Be Used to Mount Thin Optics
Inner Diameter: Ø0.91"
Made out of Brass or Plastic (Acetate)
These Ø1" optic spacers are used to separate optics within an SM1 lens tube. The drawing above shows a spacer between two plano-convex lenses. In this drawing two SM1 retaining rings hold the optics and spacer grouping together. As an alternative to using a plastic retaining ring, a spacer may be used to prevent direct contact between an anodized aluminum retaining ring and the optic's surface.
Our brass spacers are also ideal for securing thin round optics into optic mounts that use setscrews, such as our FMP1 Fixed Optical Mount. They provide a rigid, wide surface against which the setscrew can be tightened without causing damage to the optic. For example, in the image to the right, a 1 mm thick optic is mounted in a standard mirror
mount using a 6 mm SM1S6M optic spacer.