Click to Enlarge
Features
Designed for Custom Multiphoton or Other NIR Imaging Systems
Both Lenses are Optimized for Broadband NIR Imaging (680 - 1400 nm)
Externally SM1 Threaded on the Tube Lens End for Incorporating into Microscopy Systems
The MPM-SL is a premounted scan and tube lens combination that is designed to image the scan plane of a laser scanning mirror system onto the back aperture of the objective lens. The MPM-SL was designed for Thorlabs' multiphoton imaging systems and multiphoton essentials kit and is now available as a component to support the construction of custom multiphoton or other NIR imaging systems. The scan lens has an effective focal length (EFL) of 40 mm while the tube lens has an EFL of 200 mm. Both lenses are optimized for broadband NIR imaging in the 680 - 1400 nm wavelength range.
A typical application is shown in the shematic above. Light enters the system from the left, with the rays aligned either on-axis or off-axis. The scan and tube lens system relays the light through an objective, where it is focused onto a sample at a location dependent on the direction with which the rays entered the system.
The scan lens end of the system is SM1 threaded (1.035"-40) to be used with our SM1-threaded components and also has 4-40 tapped holes on 30 mm spacing for compatibility with our 30 mm cage system. The tube lens end of the unit features SM2 (2.035"-40) threading for compatibility with our SM2-threaded components. The tube lens end of the unit also attaches to the included dovetail adapter, which is designed for compatibility with our multiphoton essentials kit. These Thorlabs standard threads facilitate the construction of home-built imaging systems using standard components.
MPM-SL Specifications
Effective Focal Length
Scan Lens: 40 mm
Tube Lens: 200 mm
Back Focal Lengtha
Scan Lens: 33 mm
Working Distanceb
Scan Lens: 30.0 mm
Tube Lens (without Dovetail Adapter): 133.2 mm
Tube Lens (with Dovetail Adapter): 72.4 mm
Entrance Pupil Diameter
4 mm
Diffraction-Limited Field of Viewc
FN12
Design Field-of-Viewc
FN16
F-Theta Distortion
<4.25% @ FN16
<2.25% @ FN12
Optical Path Difference
<0.25λ Across All Wavelengths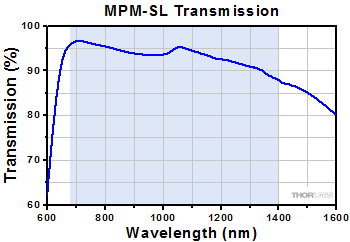 Click to Enlarge
Click
Here
for Raw Data
The blue shaded region indicates the specified 680 - 1400 nm wavelength range for optimum performance. Performance outside of the specified range is not guaranteed and varies from lot to lot.