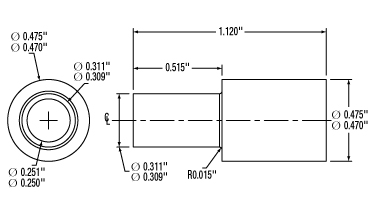 Click to Enlarge
Output End of the OSL1 Fiber Bundle
The stacked values represent the maximum and minimum values for each dimension.
Features
High Output 150 W Lamp (3200 K Color Temperature)
1000:1 Variable Intensity Control (0-100%)
Rugged Design with Thermal Switch & Safety Cutoff
Includes: Lamp, Bulb, 36" (91 cm) Ø1/4" Fiber Bundle & Adapter Chuck
Our 150 W halogen OSL light source is designed to deliver high intensity, cool light for microscopy and lab applications. The unit features a 150 W halogen lamp with a 1000:1 exponentially variable control. Each unit is shipped complete with a Ø1/4", 36"-long (91 cm) fiber bundle and a fiber adapter chuck. The lamp is available in either 110 V (OSL1) or 230 V (OSL1-EC) CE-compliant versions.
To mount the fiber, we recommend using our AD8F mounting adapter, which allows easy integration of the fiber bundle into any of our SM1 compatible mounting hardware. This unit is also compatible with our SMA Multimode Fiber Bundles with the use of the OSL1-SMA mounting adapter (sold below). In addition, Thorlabs also offers intense white light LED arrays, single emitter LEDs, collimated multi-emitter LEDs, and uncollimated multi-emitter LEDs.
Specifications
Input Voltage
110-120 VAC or 220-240 VAC, 180 W Max
 
Light Output
40,000 foot-candles
(~430,000 lux)
Lamp Adjustment Range
1000:1 (0 to 100%)
Color Temperature
3200 K with Standard EKE Lamp at Max Intensity
Lamp Life
250-10,000 Hours
Operating Temperature
0-40 °C
Humidity Range
0-80% Non-Condensing
Weight
(Light Source w/o Fiber Bundle)
7.5 lbs (3.4 kg)
The emission spectrum shown for the OSL1 halogen lamp was measured for a single halogen bulb operating at maximum power. Note, the fiber bundle included with the OSL1 was not used during the measurement of the emission spectra.