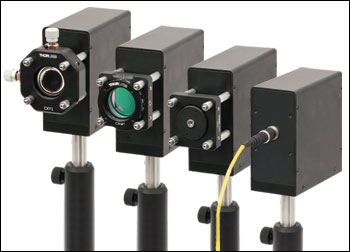 Features
Two Types of Systems Available

Fiber-Coupled

Internal Sensor Head
Fiber-Based Measurement at a Fixed Wavelength Range

Free-Space

Interchangeable External Sensor Head
Free-Space and Fiber-Based Measurements Possible
Easy Integration into Optical Setups

Four Wavelength Ranges

400 - 700 nm
700 - 1000 nm
1000 - 1350 nm
1300 - 1700 nm

External Exchangeable Measurement Heads
High Dynamic Range of 70 dB
Rotating Wave Plate Based
Sampling Rate up to 333 Samples/s
Excellent Accuracy
Preconfigured Laptop PC and Fiber Collimator Included
Applications
Free Space and In-Fiber Polarimetry
Degree of Polarization (DOP) Measurements
Extinction Ratio (ER) Measurements
Component for a PDL / PMD Measurement System
Thorlabs' Fiber-Coupled and Free-Space Polarimeters are terminating, wave-plate-based modules for free-space and fiber-based measurements of the state of polarization (SOP). Their high dynamic range of 70 dB, broad wavelength range, and accuracy of ±0.2° on the Poincaré sphere opens a wide spectrum of application possibilities. These polarimeters are available with internal or external sensor heads and are fully compatible with Thorlabs' TXP5000 platform. Each PAX module ships with a preconfigured notebook for out-of-the-box plug & play operation.
All four Stokes values, which fully characterize a SOP, are provided either as analog output voltages or as digital values to the PC. An external trigger function allows synchronization of the PAX5700 Polarimeter with other devices. The PAX5710 offers an external sensor head, which can be used for free-space beams as well as for fiber-coupled measurements. A removable collimation package for a fiber connector input comes with each sensor head. The PAX5720 has an integrated non-removable collimation package for fiber-coupled measurements only.
Based on the Thorlabs TXP5000 Modular Test & Measurement System, the PAX Polarimeters offer additional features like USB and Ethernet ports, 'plug and play' combination with other modules, easy-to-use graphical user interfaces, and flexible configurations via LabVIEW™ and LabWindows/CVI™, which allows the user to write his or her own application.
Each measurement sensor is calibrated at different wavelength points. These base points are interpolated.
Please Note:
The included, preconfigured laptop is intended for sole use with the installed software to enable plug and play out-of-the-box operation. The PC is not specified and the model may change without notice. Thorlabs cannot provide any support for the PC except regarding the operation of this device. If you would prefer a PAX or PAN system without the PC, please contact Tech Support.