All cylindrical lenses can be ordered uncoated and the cylindrical lenses made from N-BK7 can be ordered with one of the following broadband AR coatings:
-A: 350-700 nm, -B: 650-1050 nm or -C:1050-1620 nm
These high performance multilayer AR coatings reduce surface reflections to less than 1% (per surface) within the specified wavelength ranges. The central peak in each curve is less than 0.25%. These coatings are designed for angles of incidence between 0 and 30 degrees (0.5 NA). For optics intended to be used at large angles, consider using a custom coating optimized at a 45 degree angle of incidence; these coatings are effective from 25 to 52 degrees. The plot shown below indicates the performance of the standard coatings in this family as a function of wavelength. Broadband coatings have a typical absorption of 0.25%, not shown in the reflectivity plots.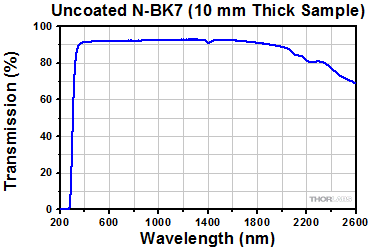 Click to Enlarge
Click
Here
for Raw Data