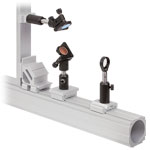 Click to Enlarge
Rail-Mounted Periscope
(See
Application Idea
Tab for Details)
Features
66 mm Optical Rails
Stock Lengths Range from 100 mm to 1000 mm
Dovetail Profile Enables Clamping to Optomechanical Assemblies or Other Rails
Single and Double Dovetail Versions with Reduced Footprint
Custom Rail Lengths Offered
Thorlabs' XT66 Optical Rails provide the building blocks necessary for constructing stable, rigid, three-dimensional mechanical assemblies. They consist of extruded lengths of aluminum with a dovetail mounting surface that allows rails to be joined to each other, breadboards, or other optomechanical assemblies. Objects are easily slid along this dovetail before being clamped down. The standard four-sided rails measure 66 mm to a side and are available from stock in lengths ranging from 100 - 1000 mm. Finished rails feature a durable, clear anodized coating.
The 66 mm rail series includes rails that have the dovetail on one, two, or four sides, as shown in the family image photos at the top of the page. The one- and two-sided rails minimize the setup's physical profile. Upon request, we can ship the four-sided rails in custom lengths from 50 mm to 1200 mm. The two- and four-sided rails are also offered in a raw extrusion length of 2 m (6.6').
Thorlabs offers an extensive selection of accessories for 66 mm rails, including clamps and angle brackets, breadboard mounts, mounting platforms, rail carriages, rail platform locators, rotation slide platforms, rail joiners, and lens tube adapters. Together with size adapters that incorporate 34 mm and 95 mm rails into an XT66 setup, these tools provide a complete family of rigid, versatile building blocks suited for virtually any optomechanical setup.