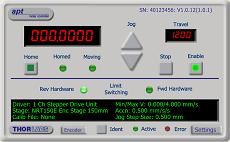 Driver Flexibility
The MLJ050 Motorized Lab Jack features an integrated apt™ compatible Controller that is fully configurable (parameterized) with key settings exposed through the associated software graphical interface panels. Jog step sizes can be selected, phase currents can be limited to suitable peak powers as required, and limit switch configuration is accommodated through flexible logic settings.
Moreover, relative and absolute moves can be initiated with move profiles set using velocity profile parameters (including acceleration/deceleration). Similarly, homing (zero position datum) sequences have a full set of associated parameters that can be adjusted for a particular application. For simplicity of operation, the apt™ software incorporates pre-configured settings for the Motorized Lab Jack.
For convenience and ease of use, adjustment of all key parameters is possible through direct interaction with intuitive software graphical panels. For example, a move to the next position can be initiated by clicking directly on the position display and entering a new value.
Note that all such settings and parameters are also accessible through the ActiveX® programmable interfaces for automated alignment sequences. Refer to the Software tab for further information on the apt™ software support.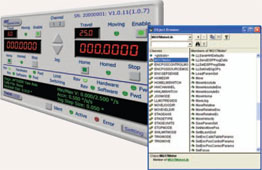 Full Software GUI Control Suite & ActiveX® Controls Included
A full and sophisticated software support suite is supplied with the MLJ050 Motorized Lab Jack. The suite includes a number of 'out-of-the-box' user utilities to allow immediate operation of the unit without any detailed pre-configuration. All operating modes can be accessed manually, and all operating parameters may be changed and saved for next time use. For more advanced 'custom' motion control applications, a fully featured ActiveX® programming environment is also included to facilitate custom application development in a wide range of programming environments. Note that all such settings and parameters described above are also accessible through these ActiveX® programmable interfaces. For further information on the apt™ software support for the MLJ050 Motorized Lab Jack, refer to the Software tab. Demonstraton videos illustrating how to program the apt™ software are also available for viewing from the Video Tutorial tab.
The ActiveX® apt™ system software shipped with the Motorized Lab Jack is also compatible with other apt™ family controllers including our multi-channel rack-based system and smaller optical-table-mountable 'T-Cube' controllers. This single unified software offering allows seamless mixing of the Motorized Lab Jack with any apt™ benchtop, table top, or rack-based unit to build a single positioning applicaiton.
The key innovation of the apt™ range of controllers and associated mechanical products is the ease and speed with which complete automated alignment/positioning systems can be engineered at both the hardware and software level. All controllers in the apt™ range are equipped with USB connectivity. The 'multi-drop' USB bus allows multiple apt™ units to be connected to a single controller PC using commerical USB hubs and cables. When planning a multi-channel application, simply add up the number and type of drive channels required and connect together the associated number of APT controllers.
Software Developers Support CD
A developers' kit is shipped with all of our apt™ series controllers. This additional software support is intended for use by software developers working on large, system integration projects that incorporate apt™ products. The kit contains an extensive selection of useful code samples as well as a library of Video Tutorials.