Features
Circular, Continuously Variable, Reflective (Metallic) ND Filter
Uncoated Back Side (240-1200 mm)
This Thorlabs' Round Continuously Variable, Reflective (Metallic) Neutral Density (ND) Filter provides linear, adjustable attenuation via rotation. This filter has a UV Fused Silica glass substrate and a metal (Inconel) coating. The mount comes with angular graduations and is secured to a rotating axel. The mount has been carefully designed to minimize the effect on the clear aperture of the optic. This mounted filter includes adapters for both 8-32 and M4 mounting holes, making the mounted filter compatible with Thorlabs' Ø1/2" TR Series Posts and Accessories.
This reflective ND filter has a metallic Inconel coating. The Inconel film is a very hard metallic alloy that is resistant to aging under normal conditions; however the Inconel coating will oxidize at elevated temperatures, so it is recommended that this filter be used at temperatures below 100° C. The use of an Inconel coating ensures that the spectral response of this Neutral Density filter is very flat from the UV out to the mid-IR. The filter is coated through a full 270°.
The non-transmitted light is reflected. For lab safety, Thorlabs offers an extensive line of safety and blackout products that significantly reduces exposure to stray or reflected light.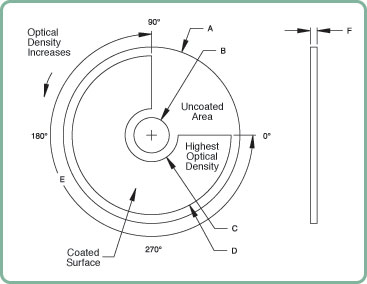 Specifications
Substrate: UV Fused Silica
Diameter Tolerance (A & B): Outer Diameter: +0.0/-0.25 mm; Inner Diameter: +0.25/-0.00 mm
Thickness Tolerance (C & D): ±0.25 mm
Coating Radial Angle (E): ±1°
Spectral Range: 240-1200 nm
Front ND Coating: Inconel (NiCrFe)
Irregularity (per cm2): <λ
Surface Quality: 60-40 Scratch-Dig
Wedge: <3 arcmin
Optical Density Tolerance: ±5% (At Both Extremes)
Linearity of Density: ±5%
Chamfer: 0.2 mm x 0.2 mm
Optical Density: 0 - 4.0
Outer Diameter: 1.25"
A: 25 mm
B: 7.5 mm
C: 8 mm
D: 23 mm
E: 270°
F: 2 mm