Features
Laser Diode Mount for 14-Pin Butterfly Packages
Zero Insertion Force (ZIF) Mounting Socket
Type 1, Type 2, Type 2 with Bias-T, and User-Defined Pinout Configurations
LED Indicates When Laser is Enabled
The LM14S2 Universal 14-Pin Butterfly Laser Diode Mount is designed for use with lasers, optical amplifiers, and two-port electro-optic devices in a 14-pin type 1, 2, or 2 with bias-T butterfly package. The top surface has heat sink fins and a recessed region to mount the laser diode, resulting in a low profile package with a temperature coefficient of 3 °C/W. The LM14S2 also includes a laser diode TEC lockout featurea that disables the laser when the TEC controller is not active. The LM14S2 supports maximum laser and TEC currents of 5 A each. In order to utilize the TEC controller, the laser must have an integrated thermoelectric cooler (TEC) or thermistor sensors. This mount also features a zero insertion force (ZIF) socket, a remote safety interlock connection, and an LED to indicate that the laser diode is enabled.
The LM14S2 eliminates the restriction of fixed-pin configuration mounts by using exchangeable configuration cards that plug into a connector located on the bottom of the mount. Included with the LM14S2 is a card that provides compatibility with both type 1 pump laser diodes and type 2 telecom laser diodes. For the pin diagrams that correspond to these types, please refer to the Pin Diagrams tab. In addition, a second card (Item # LM14S2-UA) is also included. The LM14S2-UA is a user-configurable card designed to allow custom wiring of the mount. Additional LM14S2-UA user-configurable cards are available separately. Please note that even with an LM14S2-UA, only anode-grounded diodes can be used with the LM14S2 butterfly laser mount.
In addition to the configurable pinout feature, a bias-T adapter is included, allowing for RF modulation of butterfly lasers specifically designed with this capability. It features a female SMA connector for an RF source up to 500 MHz, and is designed for lasers with a type 2 pin configuration including an internal bias-T and built-in blocking inductor. For more details on the pin assignments, please refer to the Pin Diagrams tab as well as the spec sheet for the specific laser diode to be used. Please note that Thorlabs' butterfly package laser diodes are not compatible with the bias-T adapter.
The LM14S2 is pin-for-pin compatible with all of Thorlabs' benchtop laser diode and TEC controllers, and most of our platform laser and TEC controllers as well, eliminating the need for custom-made interface cables. Thorlabs also manufactures customized, application-specific butterfly mounts for OEM customers. Please see the OEM Modules tab for details.
Item #
LM14S2
Maximum Laser Current
5 A
Polarity of Laser Diode
Anode Ground
Polarity of Monitor Diode
Floating
Maximum TEC Current
5 A
Temperature Sensor
Thermistora
Temperature Rangeb
0 to 70 °C
Temperature Coefficient of Heat Sink
3 °C/W
Dimensions
3.50" x 3.50" x 1.31"
(88.9 mm x 88.9 mm x 33.3 mm)
Modulation (Bias-T Adapter) Specificationsc
RF Modulation Frequency
100 kHz to 500 MHz
RF Input Connection
SMA
RF Input Impedance
25 Ω
RF Power (Max)
200 mW or Limit of Laser Diode
Laser Diode Connector
D-type Female

| Pin # | Signal |
| --- | --- |
| 1 | Interlock and Status Pin (LDC Specific) |
| 2 | Photodiode Cathode PDC |
| 3 | Laser Diode Anode LDA |
| 4 | Photodiode Anode PDA |
| 5 | Interlock and Status Return |
| 6 | Laser Diode Voltage (-) VLD(-) |
| 7 | Laser Diode Cathode LDC |
| 8 | Not Used |
| 9 | Laser Diode Voltage (+) VLD(+) |
Bias-T Modulation Adapter*
SMA Female

*RF input for modulation with an external source from 100 kHz to 500 MHz.
TEC Connector
D-type Male

| Pin # | Signal |
| --- | --- |
| 1 | TEC Lockout (+) |
| 2 | +Thermistor TH+ |
| 3 | -Thermistor TH_GND |
| 4 | TEC (+) |
| 5 | TEC (-) and TEC Lockout (-) |
| 6 | Not Used |
| 7 | Not Used |
| 8 | Not Used |
| 9 | Not Used |
Pin Assignment of the 14-pin Sockets
The included LM14S2-US custom configuration card can be used for any other pin configuration. This card is also available separately below.
Pin to Connector Configuration for Type 1
Pin to Connector Configuration for Type 2
Pin to Connector Configuration for
Type 2 with Bias-T

Click to Enlarge

Click to Enlarge

Click to Enlarge
1
TEC Anode
1
Thermistor Ground
1
Thermistor Ground
2
Thermistor
2
Thermistor
2
Thermistor
3
PD Anodea
3
LD Cathode
3
LD Cathode
4
PD Cathodea
4
PD Anode
4
PD Anode
5
Thermistor Ground
5
PD Cathode
5
PD Cathode
6
N.C.
6
TEC Anode
6
TEC Anode
7
PD Cathodea
7
TEC Cathode
7
TEC Cathode
8
PD Anodea
8
Case
8
Case
9
LD Cathodeb
9
Case
9
Case
10
LD Anode, Ground
10
N.C.
10
N.C.
11
LD Cathodeb
11
LD Anode
11
LD Anode
12
N.C.
12
N.C.
12
Modulation Inputc
13
LD Anode, Ground
13
LD Anode
13
LD Anode
14
TEC Cathode
14
N.C.
14
N.C.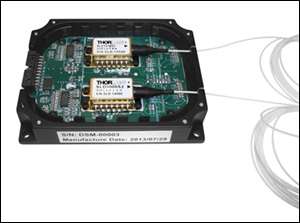 Click to Enlarge
Custom Module for 14-Pin Butterfly Packages
Thorlabs OEM Manufacturing
In addition to manufacturing a wide variety of active optical devices, Thorlabs is equipped to deliver customized laser diode, superluminescent diode, and semiconductor optical amplifier modules in OEM quantities. For example, the module shown to the right provides temperature and current control for two superluminescent diodes (SLDs) from an SPI interface. Because this module is designed for standard 14-pin butterfly packages, it is easily adapted for combinations of other optical devices, such as a pigtailed semiconductor laser with an optical amplifier.
As a manufacturer of III-V semiconductor devices, MEMS-VCSEL lasers, quantum cascade lasers, lithium niobate optical modulators, and other devices, we are intimately familiar with the operating requirements of driving lasers and related components. Please visit this webpage for an overview of our laser manufacturing facility, or contact us directly to discuss your application's needs.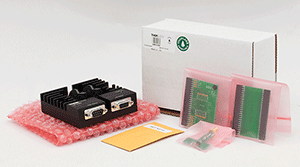 Click to Enlarge
LM14S2 Packaging

Item #
% Weight
Reduction
CO2-Equivalent
Reductiona
LM14S2
21.52%
30.10 kg
Smart Pack
Reduce Weight of Packaging Materials
Increase Usage of Recyclable Packing Materials
Improve Packing Integrity
Decrease Shipping Costs
Thorlabs' Smart Pack Initiative is aimed at waste minimization while still maintaining adequate protection for our products. By eliminating any unnecessary packaging, implementing packaging design changes, and utilizing eco-friendly packaging materials for our customers when possible, this initiative seeks to improve the environmental impact of our product packaging. Products listed above are now shipped in re-engineered packaging that minimizes the weight and the use of non-recyclable materials.b As we move through our product line, we will indicate re-engineered packages with our Smart Pack logo.