Item #
ASE Center
Wavelength
ASE 3 dB
Bandwidth
Peak
Gain
Gain
Ripple
SAF1175S
1220 nm
80 nm
17 dB
0.5 dB
SAF1174S
1320 nm
80 nm
35 dB
0.35 dB
SAF1450S2
1450 nm
100 nm
20 dB
0.4 dB (Max)
SAF1550S2
1550 nm
80 nm
17 dB
0.6 dB (Max)
SAF1550P2
1550 nm
80 nm
17 dB
0.6 dB (Max)
SAF1900S
1900 nm
150 nm
18 dB
1.5 dB
Webpage Features
Clicking this info icon below will open a window that contains item specifications and graphs.
Features
Gain Chips Mounted for Easy Integration into External Cavity Lasers
Half-Butterfly Assembly with Thermoelectric Cooler
AR Coating Eliminates Unwanted Reflections, Increasing Laser Stability, Output Power, and Spectral Quality
1.0 m Long (Min), SM or PM Tight Jacket Pigtail with FC/APC Connector
Thorlabs' family of Single-Angled-Facet (SAF) Gain Chips provides a gain medium for light in wavelength ranges centered at 1220, 1320, 1450, 1550, or 1900 nm. These gain chips feature AR coatings, an angled waveguide, and a proven SOA structure, which gives designers of external cavity lasers (ECLs) the highest power and widest tuning range available on the market. The gain chip is mounted in a half-butterfly package that collimates the output of the normal facet and couples it into an FC/APC connectorized fiber. A thermoelectric cooler (TEC) and thermistor, incorporated into the package and controlled with the easily accessible supplied pins (see the Graphs tab), enable tuning and optimization of the operating temperature.
On certain models, we can optionally provide a PM fiber or an optical isolator for the free-space input. Please contact Tech Support for a quote.
| | |
| --- | --- |
| | This link opens a document that contains a comprehensive list of performance specifications and performance plots. |
All quoted values are typical, unless otherwise indicated. Please see the gain chip's Spec Sheet (linked below) for the most detailed information on performance. The Graphs tab describes the typical performace obtained in an external cavity laser configuration.
General Specifications
Item #
Spec
Sheet
Reference Cavity
CWLa
Tuning
Rangea, b
Peak
Powera
Chip Gainc
Gain Ripple
R1
R2
Chip Length
SAF1174S
TLK-L1300Rd
1310 nm
100 nm
50 mW
35 dB
0.35 dB
0.005%
10%e
2 mm
SAF1550S2
TLK-L1550Rd
1550 nm
120 nm
40 mW
17 dB
0.6 dB (Max)
0.005%
10%e
1 mm
SAF1550P2
TLK-L1550Rd
1550 nm
120 nm
40 mW
17 dB
0.6 dB (Max)
0.005%
10%e
1 mm
ASE Specifications
Item #
Center Wavelength (Typ.)
3 dB Bandwidth (Typ.)
ASE Current
Operating Current (Typ.)
Operating Current (Max)
SAF1174S
1320 nm
80 nm
600 mA (Typ.)
500 mA
800 mA
SAF1550S2
1550 nm
80 nm
300 mA (Typ.)
300 mA
600 mA
SAF1550P2
1550 nm
80 nm
300 mA (Typ.)
300 mA
600 mA
Note: The light polarization is horizontal inside the SAF Gain Chips.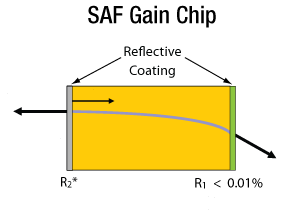 SAF Gain Chip Lasing Performance Using Littrow Tunable Laser Kit*
The innovative design of an SAF gain chip is ideal for use in external cavity lasers because it virtually eliminates unwanted feedback from the intracavity facet of the gain chip. These devices offer superior performance in a wide variety of external cavity configurations. Given below are typical spectra and details on the packaged devices.
*Our Littrow Tunable Laser Kit has been discontinued.
| Item # | Center Wavelength | Power vs. Current | Power Spectrum |
| --- | --- | --- | --- |
| SAF1175S | 1220 nm | | |
| SAF1174Sa | 1320 nm | | |
| SAF1450S2 | 1450 nm | | |
| SAF1550S2 | 1550 nm | | |
| SAF1550P2 | 1550 nm | | |
| SAF1900S | 1900 nm | | |
Basic Littrow Configuration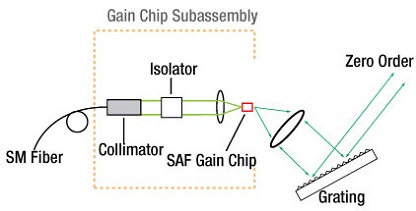 Fiber-Coupled SAF Gain Chip Drawing