See what's new at Thorlabs:
View the full list of new products (below) or browse our entire product range.
All of these items are available now!

Choose

RSS Feed to have this information delivered to you.

5 New Products in the Plano-Concave Spherical Lenses Family!
«« View All New Products
«« View ByCategory
Plano-concave lenses diverge a collimated beam from a virtual focus and are commonly used in Galilean-type beam expanders. Given their negative focal length and negative spherical aberration, plano-concave lenses can be used to balance out aberrations of other lenses in the system. Thorlabs provides plano-concave lenses fabricated from N-BK7, N-SF11, UV-fused silica, calcium fluoride, and zinc selenide. N-SF11 offers a usage range that is slightly shifted to the red compared to N-BK7. However, N-SF11 glass is associated with more dispersion because it has a lower Abbe Number than N-BK7 glass. For more information on these substrates, please visit our Optical Substrates page.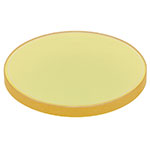 Ø1" ZnSe Plano-Concave Lenses, AR Coated for 4.5 - 7.5 µm (View Product Family)
5 New Products!

LC7759-E2- Ø1" ZnSe Plano-Concave Lens, f = -25.4 mm, AR-Coated: 4.5 - 7.5 µm RELEASED: June 18, 2019


LC7421-E2- Ø1" ZnSe Plano-Concave Lens, f = -75.0 mm, AR-Coated: 4.5 - 7.5 µm RELEASED: June 18, 2019


LC7414-E2- Ø1" ZnSe Plano-Concave Lens, f = -100.0 mm, AR-Coated: 4.5 - 7.5 µm RELEASED: June 18, 2019


LC7235-E2- Ø1" ZnSe Plano-Concave Lens, f = -50.0 mm, AR-Coated: 4.5 - 7.5 µm RELEASED: June 18, 2019


LC7142-E2- Ø1" ZnSe Plano-Concave Lens, f = -200.0 mm, AR-Coated: 4.5 - 7.5 µm RELEASED: June 18, 2019