See what's new at Thorlabs:
View the full list of new products (below) or browse our entire product range.
All of these items are available now!

Choose

RSS Feed to have this information delivered to you.

2 New Products in the Kinematic Mounts Family!
«« View All New Products
«« View ByCategory
Thorlabs' kinematic mounts include a range of popular mirror mounts as well as V-mounts, pellicle beamsplitter mounts, rectangular optics mounts, a Mini-Series collimator mount, kinematic collimator adapters, and objective mounts.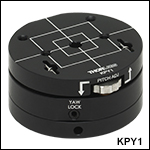 Kinematic Pitch/Yaw Mount (View Product Family)
2 New Products!

KPY1/M- Kinematic Pitch/Yaw Mount, Ø50.8 mm Platform, M4 Threaded Holes, M4 & M6 Clearance Holes RELEASED: January 24, 2020


KPY1- Kinematic Pitch/Yaw Mount, Ø2.0" Platform, 6-32 & 8-32 Threaded Holes, #8 & 1/4" Clearance Holes RELEASED: January 24, 2020