See what's new at Thorlabs:
View the full list of new products (below) or browse our entire product range.
All of these items are available now!

Choose

RSS Feed to have this information delivered to you.

3 New Products in the FiberBenches Family!
«« View All New Products
«« View ByCategory
Thorlabs' FiberBenches can be used for multiple applications that involve fiber-to-fiber coupling. In order to build a FiberBench System, choose the right pieces:


FiberBench: The Single-Axis Benches are ideal for one-input one-output applications, while the Multi-Axis Benches are great for multiple-input multiple-output systems.
FiberPort: Available with either aspheric or achromatic doublet lenses, with choice of AR Coatings.
Modules: Choose from Thorlabs' wide variety of compatible FiberBench modules featured below including optic mounts, alignment tools, polarizers, wave plates, mirrors, and beamsplitters.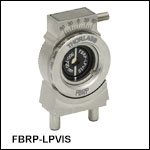 Precision Rotating Linear Polarizer Modules (View Product Family)
3 New Products!

FBRP-LPVIS- Precision Rotating Linear Polarizer Module, 500 - 720 nm, Ø2.5 mm CA RELEASED: March 19, 2020


FBRP-LPNIR- Precision Rotating Linear Polarizer Module, 650 - 2000 nm, Ø2.5 mm CA RELEASED: March 19, 2020


FBRP-LPMIR- Precision Rotating Linear Polarizer Module, 1.5 - 5.0 µm, Ø4.0 mm CA RELEASED: March 19, 2020