See what's new at Thorlabs:
View the full list of new products (below) or browse our entire product range.
All of these items are available now!

Choose

RSS Feed to have this information delivered to you.

1 New Product in the Polaris® Mirror Mounts Family!
«« View All New Products
«« View ByCategory
Polaris® Mirror Mounts are the ultimate solution for applications requiring stringent long-term alignment stability. We offer Ø1/2", Ø19 mm, Ø25 mm, Ø1", Ø2", and Ø3" versions of our standard Polaris mounts. We also offer low-optic-distortion mounts which reduce optical distortion while improving beam pointing stability, and a piezo-actuated mirror mount. A clear-edge mount with an adhesive mounting design is available for applications that require permanently fixed optics with minimal surface distortion. Finally, fixed Polaris mounts are offered in a monolithic design for integration into laser systems as well as compact glue-in designs.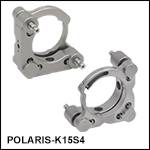 Polaris® Ø1.50" Kinematic Mirror Mount, 2 Adjusters (View Product Family)
1 New Product!

POLARIS-K15S4- Polaris® Ø1.50" Mirror Mount, 2 Hex Adjusters with Side Holes RELEASED: May 13, 2019