See what's new at Thorlabs:
View the full list of new products (below) or browse our entire product range.
All of these items are available now!

Choose

RSS Feed to have this information delivered to you.

6 New Products in the Precision Polished Aspheric Lenses Family!
«« View All New Products
«« View ByCategory
Thorlabs offers CNC precision-polished large-diameter aspherical lenses, with and without anti-reflection (AR) coatings. These lenses are available in larger sizes, provide better surface quality, and maintain the M squared values of the input beam better than their molded aspheric lens counterparts. The surface of an aspheric lens is designed to eliminate spherical aberration, providing diffraction-limited spot sizes. They are often employed to collimate light exiting a fiber or laser diode. We also offer acylindrical lenses, which provides the advantages of aspheres in one-dimensional focusing applications.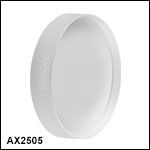 Axicons (Uncoated) (View Product Family)
6 New Products!

AX2520- 20.0°, Uncoated UVFS, Ø25.4 mm (Ø1") Axicon RELEASED: April 24, 2019


AX2510- 10.0°, Uncoated UVFS, Ø25.4 mm (Ø1") Axicon RELEASED: April 24, 2019


AX255- 5.0°, Uncoated UVFS, Ø25.4 mm (Ø1") Axicon RELEASED: April 24, 2019


AX252- 2.0°, Uncoated UVFS, Ø25.4 mm (Ø1") Axicon RELEASED: April 24, 2019


AX251- 1.0°, Uncoated UVFS, Ø25.4 mm (Ø1") Axicon RELEASED: April 24, 2019


AX2505- 0.5°, Uncoated UVFS, Ø25.4 mm (Ø1") Axicon RELEASED: April 24, 2019