See what's new at Thorlabs:
View the full list of new products (below) or browse our entire product range.
All of these items are available now!

Choose

RSS Feed to have this information delivered to you.

3 New Products in the Scientific Cameras Family!
«« View All New Products
«« View ByCategory
Thorlabs' Scientific-Grade Cameras are specifically designed for microscopy and other demanding applications. The Quantalux® sCMOS camera is a low noise, high quantum efficiency, and fast frame rate imager in a compact package. Our monochrome and color compact scientific CMOS and scientific CCD cameras are based on high quantum efficiency, low-noise imagers, which makes them ideal for multispectral imaging, fluorescence microscopy, and other imaging techniques. Our polarization-sensitive CMOS camera is ideal for materials inspection, flaw detection, and other advanced techniques using polarization.

The features and options in our cameras have been chosen and optimized to benefit your research. For example, cooled CCD cameras are available for low-light, long exposure applications. Choose from three industry-standard interfaces designed to ease integration of multiple cameras or to maximize data transfer rates. An intuitive software package, API and SDK for developers, and third-party software support provide options for custom system control and image acquisition.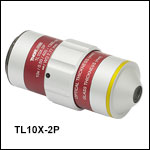 Super Apochromatic Objective with Correction Collar (View Product Family)
1 New Product!

TL10X-2P- 10X Super Apochromatic Microscope Objective, 0.5 NA, 7.77 mm WD RELEASED: July 11, 2019 - Customer Inspired Product!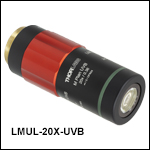 Long Working Distance, Achromatic, MicroSpot UV Focusing Objectives (View Product Family)
1 New Product!

LMUL-50X-UVB- Long Working Distance MicroSpot Focusing Objective, 50X, 240 - 360 nm, NA = 0.42 RELEASED: June 21, 2019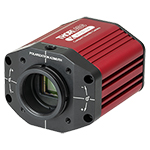 Kiralux™ Polarization Camera with 5 MP Monochrome CMOS Sensor (View Product Family)
1 New Product!

CS505MUP- Kiralux™ Polarization Camera, 5 MP Monochrome CMOS Sensor, USB 3.0 Interface RELEASED: June 10, 2019