See what's new at Thorlabs:
View the full list of new products (below) or browse our entire product range.
All of these items are available now!

Choose

RSS Feed to have this information delivered to you.

1 New Product in the Fiber Proof Testers Family!
«« View All New Products
«« View ByCategory
Fiber proof testers are designed to apply a set load to a fusion-spliced optical fiber in order to test the strength of the spliced fiber. Thorlabs' Vytran® fiber proof testers are available in both linear and rotary designs, for both proof and tension testing. Fiber proof testers are available for single mode, multimode, and polarization-maintaining fibers. Choose from dedicated, standalone systems or multipurpose designs that are also capable of stripping, cleaning, cleaving, splicing, and/or recoating.

Use the key below to determine which tools are appropriate for your application.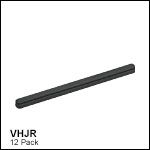 Replacement Rubber Strip for VHJ Fiber Holding Block Inserts (View Product Family)
1 New Product!

VHJR- Replacement Rubber Strip for VHJ Fiber Holding Block Inserts, 12 Pack RELEASED: May 18, 2020