See what's new at Thorlabs:
View the full list of new products (below) or browse our entire product range.
All of these items are available now!

Choose

RSS Feed to have this information delivered to you.

1 New Product in the Single-Frequency Lasers Family!
«« View All New Products
«« View ByCategory
Thorlabs offers a number of tunable, single-frequency lasers (SFL) with very narrow linewidths. These laser diodes are made in-house at Thorlabs' semiconductor manufacturing facility. Several types are available, including Distributed Bragg Reflector (DBR), Distributed Feedback (DFB), Volume-Holographic-Grating Stabilized (VHG), and External Cavity Lasers (ECL). We also offer an Ultra-Low-Noise (ULN) Laser, which is a hybrid design that uses a single angled facet gain chip coupled to an exceptionally long fiber Bragg grating.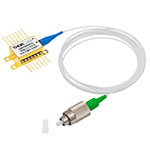 808 - 895 nm DBR Laser Diodes (View Product Family)
1 New Product!

DBR816PN- 816 nm, 45 mW, Butterfly DBR Laser, PM Fiber, FC/APC, Internal Isolator RELEASED: August 27, 2020