See what's new at Thorlabs:
View the full list of new products (below) or browse our entire product range.
All of these items are available now!

Choose

RSS Feed to have this information delivered to you.

3 New Products in the Crystal Polarizers Family!
«« View All New Products
«« View ByCategory
Thorlabs offers a number of birefringent crystals for polarization applications. Substrates include a-BBO, calcite, magnesium fluoride, quartz, rutile, and yttrium orthovanadate. Mounted and unmounted crystals are available.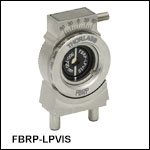 Precision Rotating Linear Polarizer Modules (View Product Family)
3 New Products!

FBRP-LPVIS- Precision Rotating Linear Polarizer Module, 500 - 720 nm, Ø2.5 mm CA RELEASED: March 19, 2020


FBRP-LPNIR- Precision Rotating Linear Polarizer Module, 650 - 2000 nm, Ø2.5 mm CA RELEASED: March 19, 2020


FBRP-LPMIR- Precision Rotating Linear Polarizer Module, 1.5 - 5.0 µm, Ø4.0 mm CA RELEASED: March 19, 2020