See what's new at Thorlabs:
View the full list of new products (below) or browse our entire product range.
All of these items are available now!

Choose

RSS Feed to have this information delivered to you.

2 New Products in the Photodiode Detectors Family!
«« View All New Products
«« View ByCategory
Thorlabs' photodiodes are available for the UV, VIS, NIR, and MIR spectral regions. We offer photodiodes unmounted, mounted, or calibrated, as well as high-speed detectors and photovoltaic detectors. These devices may require additional amplification or thermal control for optimal operation.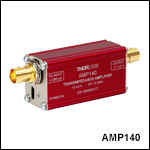 Fixed Gain Transimpedance Amplifier with Adjustable Bias Voltage (View Product Family)
1 New Product!

AMP140- Transimpedance Amplifier, 10 kV/A Gain, 10 MHz Bandwidth RELEASED: September 25, 2020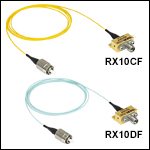 10 GHz Amplified Photoreceiver Modules (View Product Family)
1 New Product!

RX10BF- Multimode Photoreceiver Module, 750 - 1650 nm, 40 kHz - 10 GHz, FC/PC RELEASED: August 17, 2020