See what's new at Thorlabs:
View the full list of new products (below) or browse our entire product range.
All of these items are available now!

Choose

RSS Feed to have this information delivered to you.

1 New Product in the Photodetectors Family!
«« View All New Products
«« View ByCategory
Thorlabs' photodetectors are capable of detecting light throughout the UV, VIS, NIR, IR, and THz spectral regions. Our photodetectors feature sensors that enable properties such as intensity, power, intensity distribution, wavefront shape, energy, and wavelength to be measured. We offer unmounted photodiodes as well as amplified, biased, and avalanche photodetectors. Thermal power detectors are available unmounted, mounted on a PCB, or mounted on an aluminum plate. Also available are position-detecting sensors and integrating spheres.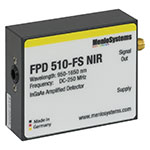 InGaAs Amplified Photodetectors, Fixed Gain (View Product Family)
1 New Product!

PDA20C2- InGaAs Fixed Gain Amplified Detector, 800 - 1700 nm, 5 MHz BW, 3.14 mm2, Universal 8-32 / M4 Mounting Holes RELEASED: February 27, 2019