See what's new at Thorlabs:
View the full list of new products (below) or browse our entire product range.
All of these items are available now!

Choose

RSS Feed to have this information delivered to you.

3 New Products in the Optical Tables, Breadboards, and Supports Family!
«« View All New Products
«« View ByCategory
Thorlabs manufactures a wide range of solid aluminum and acrylic breadboards, honeycomb breadboards, optical tables, and workstations. Thorlabs' Nexus® optical tables and breadboards are available with or without tapped mounting holes. Support and workstation options for breadboards and optical tables include non-isolating rigid supports, passive supports, and self-leveling active supports. Additionally, our ScienceDesk™ breadboard frames and optical table frames offer an ergonomic workstation optimized for microscopy or photonics applications. Various workstation accessories are also offered, allowing for a customized work environment.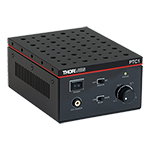 Temperature-Controlled Mini-Series Breadboard (View Product Family)
2 New Products!

PTC1/M- Temperature-Controlled Breadboard, 101.6 x 127.0 mm, M6 and M4 Tapped Holes RELEASED: October 18, 2018


PTC1- Temperature-Controlled Breadboard, 4.00" x 5.00", 1/4"-20 and 8-32 Tapped Holes RELEASED: October 18, 2018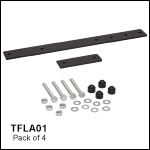 Upgrade Kit for Legacy Optical Table Workstations and Free-Standing Shelves (View Product Family)
1 New Product!

TFLA01- Laser Curtain Adapter Kit for Legacy Optical Table Workstations and Free-Standing Shelves RELEASED: October 09, 2018