General Specifications
Maximum Additional Loada,b
400 kg
Maximum Load per
Construction Rail
100 kg
Total Weight of Enclosure
150 kg
Foot Height Adjustment
±11.5 mm
HEPA Filter Efficiency
99.95%
Internal Dimensions
1230 mm x 2100 mm x 1132.5 mmc
Frame Dimensionsd
2.20 m x 1.33 m x 2.36 m
Crate Dimensions
2.29 m x 0.75 m x 0.79 m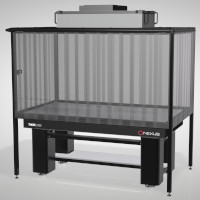 Click to Enlarge
Rendering of Laminar Flow Enclosure with a Nexus Optical Table
Features
Free Standing Enclosure Frame
Designed to Fit a 1.2 m x 2.0 m (4' x 6') Nexus® Optical Table
HEPA Fan Filter Unit (FFU) Creates a Clean Environment
Air Quality Monitor (AQM) Continuously Monitors the Enclosure's Air Quality
Low-Odor Transparent Curtain Walls and Enclosed Ceiling
Thorlabs' Laminar Flow Enclosures are designed to create a clean environment around 1.2 m x 2.0 m (4' x 6') Nexus optical tables by providing an enclosed air volume and filtration system to help minimize contamination. The system incorporates an enclosure frame; soft wall transparent curtain sides; an enclosed ceiling; and a top-mounted HEPA Fan Filter Unit (FFU). The enclosure frame does not touch the optical table in order to avoid the transmission of vibrations from the frame to the table. It also includes an Air Quality Monitor (AQM) that continuously monitors the quality of the air inside the enclosure.
The HEPA filter units shipped with the enclosures require a voltage of 115 V (-US enclosures) or 230 V (-EU and -UK enclosures). Please note that cables are not provided with the HEPA filter. Assembly and wiring of the filter should be carried out as per local regulations. For more information, please refer to the HEPA manual shipped with each enclosure.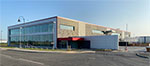 Laminar Flow Enclosures are
designed in our UK office.
Interested in Custom Capabilities?
Thorlabs is in the process of expanding our offering of Laminar Flow Systems and accessories. If you are interested in features that you don't see here, please
contact us to discuss custom requests.



Each enclosure frame is composed of rails that are compatible with our 50 mm & 75 mm construction rail accessories, including T-nuts and screws, mounting brackets and feet, rail joiners, and channel inserts. An LED light strip on the interior of the structure helps illuminate the optical table. Additionally, a curtain bar with brackets can be attached to the front of the enclosure, which allows the transparent curtain walls to be moved out of the way when working inside the enclosure.
Please note that these enclosures require assembly, a manual process that requires four people to work on at least one of the assembly steps. The fully assembled enclosure will wrap around a nexus optical table. Tables are not included and must be purchased separately. To view a list of compatible Nexus optical tables, please see the Compatible Tables tab. For full assembly instructions, please view the manual by clicking on the red docs icon (

) below.
Compatible Nexus Optical Tables
Item #
Dimensions
Mounting Holes
Additional Features
T46H
4' x 6' x 8.3"
1/4"-20
-
T46V
4' x 6' x 8.3"
1/4"-20
Sealed Holes
T46J
4' x 6' x 12.2"
1/4"-20
-
T46W
4' x 6' x 12.2"
1/4"-20
Sealed Holes
T46HHa
4' x 6' x 8.3"
1/4"-20
Two Through Ports
T46K
4' x 6' x 18.1"
1/4"-20
-
T46X
4' x 6' x 18.1"
1/4"-20
Sealed Holes
T1220C
1.2 m x 2.0 m x 210 mm
M6 x 1.0
-
T1220Pb
1.2 m x 2.0 m x 210 mm
M6 x 1.0
Sealed Holes
T1220D
1.2 m x 2.0 m x 310 mm
M6 x 1.0
-
T1220CH
1.2 m x 2.0 m x 210 mm
M6 x 1.0
Two Through Ports
T1220E
1.2 m x 2.0 m x 460 mm
M6 x 1.0
-
T1220R
1.2 m x 2.0 m x 460 mm
M6 x 1.0
Sealed Holes
T1220Q
1.2 m x 2.0 m x 310 mm
M6 x 1.0
Sealed Holes