Features
Vapor Cells for Frequency and Wavelength Reference
Borosilicate Glass Reference Cells

Cesium (Cs)
Potassium (K)
Sodium (Na)
Rubidium (Rb)

Quartz Glass Reference Cells

Cesium (Cs)
Iodine (I)
Rubidium (Rb)
Enhanced Rubidium 87 (87Rb)

Glass Cell Heaters Available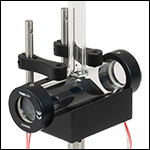 Click to Enlarge
with Two GCH25R Heater Caps
Reference cells contain vapors of specific atomic elements or molecular compounds, each of which has a well-defined absorption spectrum. These cells are commonly used in spectroscopic applications such as tunable diode laser calibration, stabilization of laser frequencies, and calibration of wavelength meters. Thorlabs offers both pyrex and quartz reference cells that contain a range of standard fill materials. All of the cells offered here have been baked and evacuated to 10-8 torr in order to remove contaminants. Additionally, each cell is helium leak checked to ensure the longevity of the vapor cell. Custom reference cells can be manufactured upon request.
Since each fill material is associated with a unique absorption spectrum that serves as its fingerprint, the contents of a reference cell can be determined via a linear absorption measurement (as depicted by the simplified schematic above). By scanning a tunable diode laser over a wavelength range and detecting light absorption (A) with a photodetector, a series of peaks will be recorded, which is characteristic of the vapor inside the cell. We also offer pre-assembled Herriott cells for gas absorption spectroscopy applications as well as empty glass cells and threaded glass cells for custom spectroscopic applications.
Mounting & Heating Options
These cells can be mounted in our V-Clamp Mounts, which are available in standard, kinematic, or Ø1.5" post-compatible versions. Please check that the cell diameter is supported by the mount. The cells can be heated using the GCH25-75 Glass Cell Heater, illustrated in the Application Idea at the top of the page, or the GCH25R Heater Caps, shown in the photo above. Our HT10K and TLK-H Resistive Foil Heaters wrap around Ø25.4 mm glass cells and feature adhesive backing.
Please note: These reference cells are subject to hazardous goods regulations and must be shipped separately using specifically regulated shipping methods and may require special shipping and handling charges. Next day delivery is not available. All orders will ship from our US warehouse regardless of destination and cannot be returned. Due to hazardous materials shipping regulations, we are currently unable to ship our reference cells to Brazil, China, or Uruguay.
Borosilicate Reference Cells
Specifications
Material
Borosilicate Glass
Cell Diameter
25.4 mm
Cell Length
71.8 mm
Pressure @ 25 °C
>10-7 Torr
Fill Stem
<10 mm
Window Angle
0°
Window Type
Flat
Window Thickness
1.6 mm
Minimum Transmission (350 nm - 2.2 µm)
>84%
Vapor
Typical Wavelength
Sodium (Na)
589 nm
Potassium (K)
764 nm
Rubidium (Rb)
780 nm
Cesium (Cs)
852 nm
Quartz Reference Cells
Item #
GC19075-CS
GC19100-I
GC19075-RB
GC19075-RB87
Material
Quartz
Cell Diameter
Ø19.0 mm
Cell Length
75.0 mm
100.0 mm
75.0 mm
75.0 mm
Pressure @ 25 °C
> 0.1 - 1.2 Torr
Fill Stem
<10 mm
Window Angle
11° ± 1°
Window Type
Wedged 2°
Window Thickness
3 mm
Window Surface Quality
60-40 Scratch-Dig
Window Flatness
λ/4