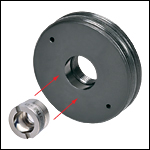 Click for Details
Mounting an M8-Threaded Aspheric Lens in S1TM08 Adapter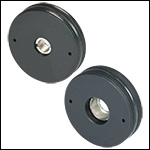 Click for Details
S1TM06 and S1TM09 Adapters with Mounted Aspheres
This animation shows the orientation of the lens for insertion into our aspheric lens RMS microscope objective adapters. The correct lens orientation is engraved on the adapter as well.
Features
Mounts Hold Threaded Aspheric and Achromatic Lenses

Thread to Thread Adapters with SM05, SM1, or RMS Threading
30 mm Cage Plates

Rubber O-Ring on SM-Threaded Mounts Minimizes Unwanted Adapter Translation
RMS Adapters Allow Aspheric Lenses to be Inserted into Microscope Objective Systems
Thorlabs' Aspheric Lens Adapters are designed to hold our mounted aspheric and achromatic lenses in our extensive line of SM05- and SM1-threaded lens tubes and 30 mm cage system assemblies. The SM-threaded lens adapters make it easy to mount aspheric lenses in our standard LDM21 and high-power TEC-cooled laser diode mounts where they can be used to collimate or focus laser diode output. The 30 mm cage plates allow lenses to be mounted in cage assemblies for collimation and focusing.
The range of aspheric lens applications is further enhanced by our selection of RMS-threaded adapters that can be used to incorporate our aspheric lenses into any optical system that uses the same RMS threads that microscopy objectives use. Please note that the ExxRMS adapters require the aspheric lens to be inserted threads first into the RMS-threaded side of the adapter, as shown in the animation to the right. The correct lens orientation is also engraved on the adapter for ease of use.
We recommend using Spanner Wrenches to secure mounted aspheric lenses into these lens adapters. Spanner wrenches also allow the lens adapters to be easily threaded into lens tubes. The appropriate spanner wrench for each aspheric lens and lens adapter is given in the tables below.
Mounted Aspheric Lens Thread
M6 x 0.5
M8 x 0.5
M9 x 0.5
M10 x 0.5
M12 x 0.5
Compatible Mounted Lensesa
A414TM
C140TME
C151TMD
C392TME
C430TME
C710TME
C021TME
C170TME
C350TMD
C390TME
C440TME
C660TME
A110TM, A220TM, A230TM
A375TM, A390TM, A397TM
C036TME, C037TME, C105TMD
C110TME, C220TME, C230TME
C260TMD, C280TME, C330TMD
C340TMD, C560TME, C610TME
C671TME
Ø5 mm, Ø6 mm, and Ø6.35 mm Mounted Achromatic Doublets
C028TME
A240TM
C240TME
Ø8 mm Mounted Achromatic Doublets