Threaded Manual Beam Shutter
Internal and External SM1 Threading
Lever-Activated, Light-Tight Shutter
Engraving Indicates Closed Position
Application Idea
Enclosed Beam Path with Shutter
SM1SH1

Please Wait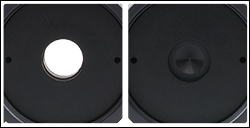 Click to Enlarge
SM1SH1 Shown in the Open and Closed Positions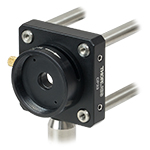 Click to Enlarge
SM1SH1 Manual Beam Shutter Mounted in a
CP33
Cage Plate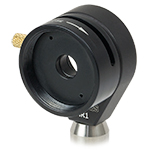 Click to Enlarge
LMR1
Fixed Lens Mount Being Used to Post Mount the SM1SH1 Manual Beam Shutter
Features
Open/Close Lever Positions
Internal and External SM1 Threading (1.035"-40)
SM1 Lens Tube System Compatible
Clear Aperture when Open: 7.2 mm (0.29")
Shutter is Completely Light-Tight
The SM1SH1 Manual Beam Shutter provides a convenient, labeled switch for propagating a beam through an optical assembly. The lever-actuated shutter is firmly held in position with a precision detent mechanism at both the opened and closed locations.
This aluminum shutter incorporates internal SM1 threads (1.035"-30) on one side and external SM1 threads on the other, making it ideal for use with our lens tube systems. The internally threaded side of the shutter has a metal plate enclosing the shutter mechanism designed to withstand high power and short pulsed beams. Therefore for best performance, this metal plate should face the incoming beam.
Please note that we do not recommend using the SM1SH1 shutter within a 30 mm cage system, as the cage rods will interfere with the shutter's lever actuator. If it is used in a cage system, we recommend placing the shutter at the end of a branch, as shown in the photo above.