Features
Connectorization Kits for Installing New Fiber Optic Connectors and Building Patch Cables
Touch-Up Polishing Kit for Repairing Damaged Connector End Faces
Kit Prices Include a 10% Discount over the Individual Components
Fiber Optic Termination Kits
The CK01, CK03, and CK05 Fiber Optic Termination / Connectorization Kits include all the necessary tools and supplies to install connectors on single mode and multimode optical fiber. All that's needed to create a fiber optic patch cable is the optical fiber and appropriate connectors. The CK01 kit is for multimode SMA905 connectors, while the CK03 kit is for single mode or multimode FC/PC connectors, and the CK05 kit is for single mode or multimode FC/APC connectors.
Connector Touch-Up Polishing and Repair Kit
The TUK05 Touch-Up Polishing Kit enables scratched or damaged fiber connector end faces to be repaired by polishing out the scratches. This repair kit allows the performance of connectors to be restored if they have been lightly damaged. The kit includes everything necessary to repair FC/PC or FC/APC connectors with ceramic ferrules. Additional components can be purchased to repair other connector types (see below for details).
For detailed information on connectorization or polishing of fibers, please refer to the FN96A Connectorization Manual.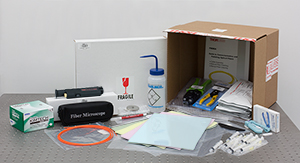 Click to Enlarge
Updated CK01 Packaging

Smart Pack Goals
Reduce Weight of Packaging
Increase Usage of Recyclable Materials
Improve Packing Integrity
Decrease Shipping Costs
Thorlabs' Smart Pack Initiative is aimed at minimizing waste while providing adequate protection for our products. By eliminating any unnecessary packaging, implementing design changes, and utilizing eco-friendly materials, this initiative seeks to reduce the environmental impact of our product packaging.

The updated CK01, CK02, and CK03 kit packaging consists of recycled paper plus minimal plastic and weighs 29% less than the original packaging. This weight change results in a 15.08 kg, 20.54 kg, and 10.66 kg reduction in travel-based CO2 emissions yearly per respective kit, based on typical product sales.

As we move through our product line, we will indicate re-engineered, eco-friendly packaging with our Smart Pack logo, which can be seen above.