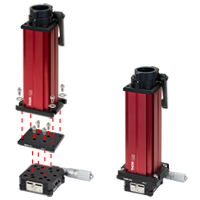 Click to Enlarge
Features
Post Holder or Pedestal Style Clamp for Ø1.5" Posts
Post Holder with Quick-Release and Height Collar
Pedestal Base Compatible with PF175B Clamping Fork
Adapter Plate for Mounting Rigid Stand Post Holders on Translation Stages
Thorlabs' Ø1.5" Post Holders and Pedestal Clamping Fork are ideal solutions for mounting our Ø1.5" posts to a breadboard or optical table. While our line of Ø1.5" posts covers a range of fixed heights, the post holders allow more height flexibility and mounting options. The sturdy 66 mm construction rail body and broad 3.00" (76.2 mm) × 3.52" (89.3 mm) base provide superb stability and solid mounting. Counterbored slots in the base allow the post holder to be directly mounted with 1/4"-20 (M6) caphead screws. A taller post holder should be used with a longer post holder in order to obtain the greatest stability.
Alternatively, the Pedestal Base Adapter allows the user to secure a Ø1.5" post through use of a clamping fork. It has a 1/4"-20 (M6) threaded stud that is designed to thread onto the bottom of our Ø1.5" posts. This adapter is compatible with our PF175B clamping fork, which creates three points of contact with the table for high stability.
We also offer a post holder adapter plate that allows users to mount a rigid stand post holder on translation stages that have four 1/4"-20 (M6) tapped holes with 1" spacing and a sufficient load capacity to support a post holder and additional components. Be sure to check a stage's specifications to determine compatibility. The combination of the adapter plate and a translation stage provides a manual solution for easily translating a post holder within a setup.