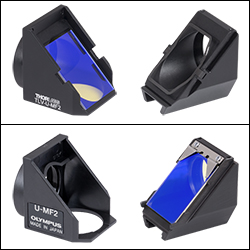 Click to Enlarge
Thorlabs' filter cubes (top) retain the dichroic beamsplitter using a spring plate that applies force evenly, putting less stress on the optic compared to OEM cubes (bottom). The spring plate is also premounted on the cube, simplifying the assembly process.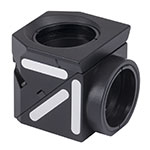 Click to Enlarge
Thorlabs' filter cubes feature labels for identifying installed filters.
Features
Drop-in Filter Cubes for Select Thorlabs' Cerna®, Nikon, and Olympus Microscopes
Advantages of Thorlabs-Manufactured Cubes Over OEM Cubes:

Reduced Dichroic Mirror/Beamsplitter Distortion for Improved Image Quality
Simplified Hassle-Free Optic Mounting

Easily Mount Fluorescence Imaging Filter Sets: Emission Filter, Excitation Filter, and Dichroic Mirror
Filter Cubes with Pre-Installed Filters Available
We offer Thorlabs and OEM Drop-In Filter Cubes for select Cerna, Olympus, and Nikon fluorescence microscopes. Each filter cube holds one Fluorescence Filter Set, which includes an excitation filter, emission filter, and dichroic mirror/beamsplitter. Optics can be mounted, aligned, and swapped out easily, following the videos and assembly instructions below. Please see the compatibility tables below to determine the correct filter cube for your application.
Compared to OEM filter cubes, Thorlabs' filter cube design features improved dichroic mirror retention for lower optic distortion, simplified optic mounting (see photo to the right), and three engraved labels for writing information about installed filters (see photo above).
These drop-in filter cubes are offered as empty mounts. The filter cubes are compatible with excitation filters (Ø25 mm, up to 5 mm thick), emission filters (Ø25 mm, up to 3.5 mm thick), and dichroic mirrors (maximum sizes vary, please see below for details) which are commonly used in applications targeting specific fluorophores. Select filter sets are available pre-installed into Thorlabs' filter cubes here. For other filters and custom requests, please contact Technical Support.
Note: Thorlabs does not guarantee compatibility with other industry-standard microscopes not mentioned on this webpage.