Click for Details
Splice-Ready Connector and Fiber Mounted in a Fiber Splicer
Features
Quickly Repair Broken or Damaged Fiber
Available with FC/PC, FC/APC, or LC/PC Connector
Splice Protector Sleeves Available Separately
Thorlabs' splice-ready connectors, also commonly called splice-on connectors, offer a quick and easy method to repair broken or damaged optical fiber. Designed for the 1260 - 1620 nm wavelength range, our splice-ready connectors are available with one of three industry-standard connectors: FC/PC, FC/APC, or LC/PC. Each connector includes 50 cm of SMF-28 Ultra single mode fiber, scissor cut on the spliceable end.
The connectors sold here include a 60 mm splice protector sleeve which provides rigid support for the splice joint. These sleeves are also available in lengths of 40 mm or 60 mm in packages of 25. The splice protectors are compatible with fiber outer diameters up to 900 µm.
Thorlabs offers fiber-to-fiber splices, fiber cleavers, fusion splicers, and stripping & crimping tools for splicing fibers, ideal for our splice-ready connectors. For inquiries about custom splice-ready fibers, please contact Technical Support.
Splice-Ready Connector Specifications
Item #
P9-SMF28E6-FC
P9-SMF28E6-APC
P9-SMF28E6-LC
Fiber
SMF-28 Ultra
Connector Type
FC/PC
FC/APC
LC/PC
Insertion Lossa
0.3 dB
Return Lossa
55 dB
65 dB
55 dB
Wavelength Range
1260 - 1625 nm
Cutoff Wavelength
<1260 nm
Mode Field Diameter
9.2 ± 0.4 µm @ 1310 nm
10.4 ± 0.5 µm @ 1550 nm
Numerical Aperture
0.14
Cladding
Ø125 ± 0.7 µm
Coating
Ø242 ± 5 µm
Jacket
Ø900 µm Yellow Hytrel Tube
Splice Protector Sleeve Specifications
Specification
SPS40
SPS60
Sleeve Length
40 mm
60 mm
Stainless Steel Rod Length
35 mm
55 mm
Inner/Outer Tube Material
Ethylene-Vinyl Acetate
Dimension after Shrinking
Ø3.2 mm × 40 mm
Ø3.2 mm × 60 mm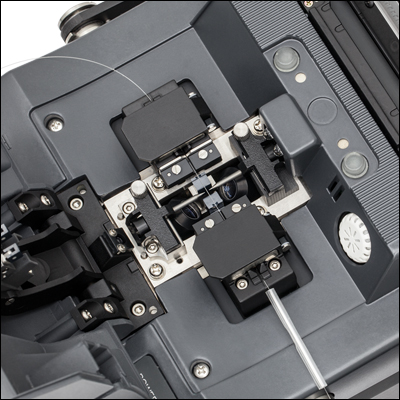 Click to Enlarge
A spliced fiber in a fiber splicer. The splice protector sleeve can be seen in the bottom right of the image. When splicing together two connectorized fibers, thread one of the fibers through the splice protector sleeve before splicing.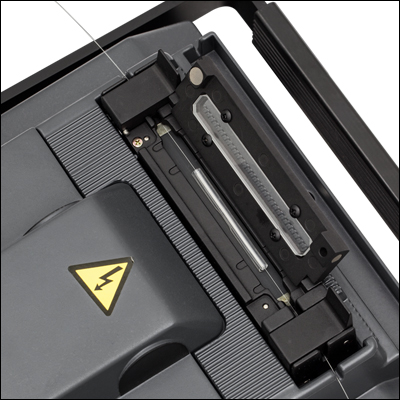 Click to Enlarge
A spliced fiber with splice protector sleeve in the heating compartment of a fiber splicer. Once the fiber has been spliced together, slide the protector sleeve over the splice joint and place in the heating compartment of your fiber splicer. Refer to your operation manual to find the correct settings to properly heat the splice protector.