Features
Partial Reflectors for In-Line Fiber Applications
Internal Reflective Coating with 67:33 or 10:90 Reflection Ratio (R:T)
1450 nm - 1650 nm Wavelength Range
Available with 2.0 mm Narrow Key FC/PC or FC/APC Connectors
Thorlabs' In-Line Partial Reflectors are designed to partially reflect the input light; a portion is reflected back towards the input end while another fraction is transmitted to the output. This is achieved by splitting the input light and using an internal reflective coating to direct the light back towards the input. Unlike our beamsplitter-coated patch cables, neither of the connector ends are coated; therefore, these partial reflectors can be mated to other patch cables for completely in-line operation. When used with a fiber optic circulator, these reflectors offer a solution for all-fiber beamsplitting (see the Applications tab) and are useful for applications such as round trip delay timing.
These partial reflectors have a 1450 nm - 1650 nm single mode wavelength range with either a 67:33 or 10:90 reflection ratio. The reflection ratio (R:T ratio) is the ratio of reflected light to transmitted light not including light lost within the device due to absorption. The white port is used as the input; please note that these partial reflectors cannot be used in the reverse direction. Partial reflectors are offered from stock with FC/PC or FC/APC connectors, as outlined in the table below. Fiber leads are jacketed in Ø900 µm Hytrel® tubing and are 0.8 m long. Custom configurations with other wavelengths, fiber types, or R:T ratios are also available; please contact Tech Support with inquiries.
Each partial reflector includes two protective caps that shield the ferrule ends from dust and other hazards. Additional CAPF Plastic Fiber Caps and CAPFM Metal Threaded Fiber Caps for FC/PC- and FC/APC-terminated ends are also sold separately. Mating sleeves are available to couple patch cables together and serve to minimize back reflections and ensure proper alignment of the cores of each connected fiber.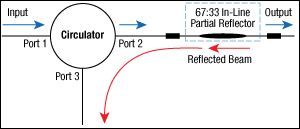 Click to Enlarge
Figure 1:
All-Fiber Beamsplitter Setup
All-Fiber Beamsplitting
Fiber partial reflectors are useful in creating a variety of devices such as beamsplitters, laser cavities, and interferometers. These fibers reflect a fraction of the light back down the fiber, transmitting the remainder through the output fiber connector.
This property is especially useful for creating an all-fiber beamsplitter; the user can split a light source without requiring free space coupling using a beamsplitter cube. Figure 1 shows this simple setup made up of a fiber circulator and a 67:33 fiber partial reflector. Light is input into Port 1 of the circulator, with the partial reflector coupled to Port 2. The input light is coupled from Port 1 to Port 2; roughly 33% of the light is transmitted through the fiber output, and the remainder is reflected back towards the input and directed towards Port 3 by the circulator.