Features
Designed for Thorlabs' Solis® LEDs for Microscopy
Easily Control LED Intensity Using the Dial
Protects LED from Overdriving by Automatically Setting the Current Limit
Provides Drive Current up to 10 A
Supports LED Forward Voltage up to 14 V
Accepts External TTL Modulation Signal via BNC Connector
Thorlabs' DC20 Driver is designed to provide a simple way to control any of Thorlabs' Solis LEDs. Easy to set up and use, this driver is an ideal solution for users of our Solis LEDs who don't require the more advanced functions provided by the DC2200 Touchscreen LED Driver. See the Solis LED Drivers tab for a comparison between the DC20 and the DC2200 drivers.
The current provided to the LED is controlled by turning the knob on the top of the driver. The position on the top panel marked LIMIT will correspond to the maximum LED current for the connected Solis LED, as the driver automatically detects and sets the current limit to the value stored in each Solis LED's internal memory to protect it from being overdriven. Pushing on the knob will either switch the LED on at the percentage of the maximum current indicated by the control knob position or turn it off. Alternatively, the LED can be modulated using an external TTL signal connected to a BNC input on the back of the driver's housing. See the Specs tab for the TTL signal requirements.
A tri-color LED on the side of the unit indicates the current LED status, including whether the LED is on or off (useful with IR LEDs), whether the LED is operating normally, or if an error has occurred.
Please note that the DC20 driver is designed specifically to work with the internal electronics in Thorlabs' Solis LEDs and should not be used to drive any other type of LED.
Thorlabs also offers other LEDs drivers that are compatible with our mounted, collimated, fiber-coupled, and PCB-mounted LEDs. See the table below for available LED driver options.
DC20 Specifications
Constant Current Mode (CW)
LED Current (Max)a
1 to 10 A
LED Forward Voltage (Max)a
5.0 to 14.0 V
LED Current Limit Accuracy
±(1% + 25 mA)
Noise and Ripple (1 Hz to 10 MHz, RMS)
<400 µA (Typical)
TTL Modulation Modeb
Input Impedance
10 kΩ
Modulation Frequency Range
DC to 1 kHz
Duty Cycle Range
0.2% to 99.8% (10 Hz)
2.0% to 98.0% (100 Hz)
20% to 80% (1 kHz)
Modulation Waveform
Square Wave / PWM (Pulse Width Modulation)
TTL Low Voltage Level
0.0 V to 0.8 V
TTL High Voltage Level
2.0 V to 5.0 V
General
Power Supply
15 V DC
Power Consumption
65 VA (Max)
Operating Temperature Rangec
0 to 40 °C
Storage Temperature Range
-40 to 70 °C
Dimensions
85.4 mm x 59.6 mm x 100.0 mm
(3.36" x 2.35" x 3.94")
Weight
215 g (without Power Supply)
490 g (with Power Supply)
Callout
Description
1
Control Knob:
Turn for LED Current Adjustment,
Push to Turn LED On and Off
2
BNC Jack for TTL Modulation Input:
Low Voltage Level: 0.0 V to 0.8 V,
High Voltage Level: 2.0 V to 5.0 V
3
Solis® LED Connector
4
Input for Power Supply
5
Status LED
Orange: DC20 Ready for Operation, LED Off
Green: Solis LED On
Red or Blinking: Warning Indicatora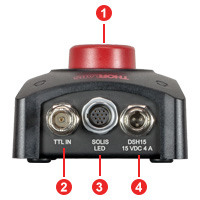 Click to Enlarge
Connectors and Control Knob on the DC20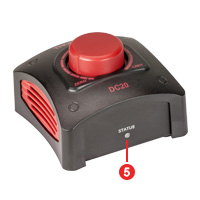 Click to Enlarge
Status Indicator LED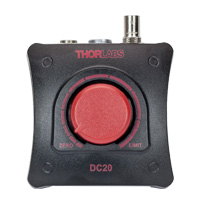 Click to Enlarge
DC20 Top View
DC20 Connector Pin Diagrams
Solis® LED Connector
12 Pin Neutrik MiniCON Female Connector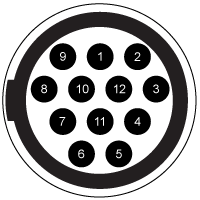 The DC20 Driver is only intended for use with Thorlabs' Solis LEDs, so this pin diagram is provided for reference only.
| Pin | Connection | Pin | Connection |
| --- | --- | --- | --- |
| 1 | LED Cathode | 7 | LED Anode |
| 2 | LED Cathode | 8 | LED Cathode |
| 3 | Not Used | 9 | LED Cathode |
| 4 | LED Anode | 10 | Not Used |
| 5 | LED Anode | 11 | EEPROM (Data) I/O |
| 6 | LED Anode | 12 | EEPROM (Data) Ground |
External Trigger
BNC Jack for TTL Signal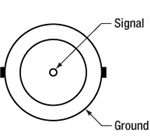 Low Voltage: 0.0 to 0.8 V
High Voltage: 2.0 to 5.0 V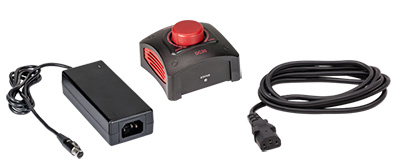 Click to Enlarge
The following items are included in the DC20 package:
DC20 LED Current Controller
Power Supply
Location-Specific Power Cord
Thorlabs offers two options for driving our Solis® LEDs. The DC20 is a basic option that allows users to control the intensity of their LED using a control knob on the top or via an external TTL signal for modulation. For more advanced applications, our DC2200 drivers provides a touchscreen interface that allows users to control the LED current, select internal or external modulation modes, and more. The table below provides a comparison of key controller features.
Solis® LED Driver Selection Guide
Item #
DC20
DC2200
Photo (Click to Enlarge)
LED Current / Forward Voltage (Max)
1 to 10 A / 5.0 to 14.0 Va
1.0 A / 50.0 Vb
2.0 A / 35.0 Vb
4.0 A / 15.0 Vb
5.0 A / 10.0 Vb
10.0 A / 5.0 Vb
Noise and Ripple
(1 Hz to 10 MHz, RMS, Typical)
<400 µA
<100 µA from 0.0 to 4.0 A
<200 µA from 4.0 to 10.0 A
Internal Modulation Modes
-
0.1 Hz to 20 kHz (PWMc Mode)
1 µs to 10 s On or Off Time (Pulse Mode)
20 Hz to 100 kHz (Internal Modulation Mode
with Sine, Square, Triangle Waveforms)
External Modulation
(Arbitrary Waveform)
-
DC - 250 kHz
[Small Signal Bandwidth (Sine)]d
TTL Modulation (External)
DC to 1 kHz (Square Wave, PWMc)
DC to ≥18 kHze
LED Control Interface
Knob to Control LED Current,
BNC Port for TTL Modulation
Easy-to-Navigate Touchscreen Interface,
Brightness and Constant Current Operating Modes,
Internal and External Modulation Modes,
SMA Port for External Modulation Accepts
TTL Signal or Waveform from a Function Generator,
USB Interface for Remote Control
Current Limit
Automatically Read and Set from the Solis LED's Internal Memory to Protect the LED from Overdriving
External Software Interface
No
DC2200 GUI
Other Compatible LEDs
-
Mounted
Collimated
Fiber Coupled
MCPCB Mountedf