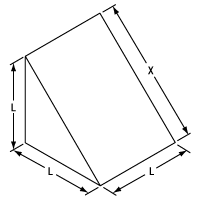 The size of these prisms is defined by the leg dimension, L, which is indicated in the product list below. See the
Specs
tab for full product dimensions.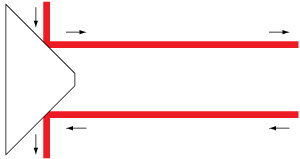 Click to Enlarge
A leg-coated prism mirror can be used to create an optical delay line.
Features
Right-Angle Prism with Dielectric-Coated Legs
Two Broadband Dielectric Coatings with Ravg > 99% for 400 - 750 nm or 750 - 1100 nm
Leg Lengths Ranging from 5.0 mm to 25.0 mm
Thorlabs' Leg-Coated Right-Angle Prism Mirrors feature dielectric coatings on the two legs and offer a clear aperture greater than 70% of the face length and width. Note that this clear aperture does not include the beveled edge between the two legs. These prism mirrors are manufactured from N-BK7 and are offered with dielectric coating ranges of 400 - 750 nm or 750 - 1100 nm. Please see the Specs and Graphs tabs above for details on the reflectance of the two coatings.
These mirrors can be used optical delay lines, which can be used to extend the path length in an optical system. They allow two counterpropagating beams to be made parallel with the output orthogonal to the input, as shown to the left. For applications which seek to split a beam orthogonally or combine two inputs into an orthogonal co-linear output, please view our knife-edge right-angle prisms.
While the hypotenuse is polished, these mirrors are not intended for use as retroreflectors due to the adhesion layers used in the coating process. For retroreflection applications we suggest the PS911K, an uncoated version of our right angle prisms, or our selection of mounted and unmounted retroreflectors. Thorlabs also offers a selection of hypotenuse-coated right-angle prism mirrors.
Additional leg sizes and coatings are available upon request. Please contact Tech Support with inquiries.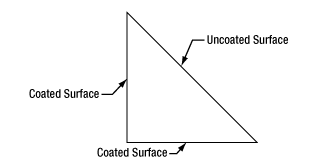 Right-Angle Prism Diagram
Common Specifications
Substrate Material
N-BK7a
Dimensional Tolerance
±0.1 mm
Surfaces Flatness
λ/10 @ 633 nm (Peak to Valley)
Surfaces Quality
10-5 Scratch-Dig
Clear Aperture
>70% of Face Length and Width
45°-45°-90° Prism Angular Tolerance
±3 arcmin
Item #
La
Xa
Reflectance
(Click for Graph)
Broadband Dielectric Coating: 400 nm - 750 nm
MRA05L-E02
5.0 mm
7.1 mm
Ravg > 99%
(400 nm - 750 nm)
MRA10L-E02
10.0 mm
14.1 mm
MRA12L-E02
12.5 mm
17.7 mm
MRA20L-E02
20.0 mm
28.3 mm
MRA25L-E02
25.0 mm
35.4 mm
Broadband Dielectric Coating: 750 nm - 1100 nm
MRA05L-E03
5.0 mm
7.1 mm
Ravg > 99%
(750 nm - 1100 nm)
MRA10L-E03
10.0 mm
14.1 mm
MRA12L-E03
12.5 mm
17.7 mm
MRA20L-E03
20.0 mm
28.3 mm
MRA25L-E03
25.0 mm
35.4 mm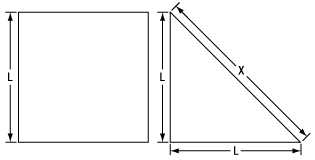 Right-Angle Prism Dimensions
These plots show the reflectance of our -E02 (400 - 750 nm) and -E03 (750 - 1100 nm) dielectric coatings for a typical coating run. The shaded region in each graph denotes the spectral range over which the coating is highly reflective. Due to variations in each run, this recommended spectral range is narrower than the actual range over which the optic will be highly reflective. If you have any concerns about the interpretation of this data, please contact Tech Support. For applications that require a mirror that bridges the spectral range between the dielectric coatings, please consider a metallic mirror.
-E02 Coating (400 - 750 nm)
-E03 Coating (750 - 1100 nm)