Mechanical Essentials Kits: Posts and Accessories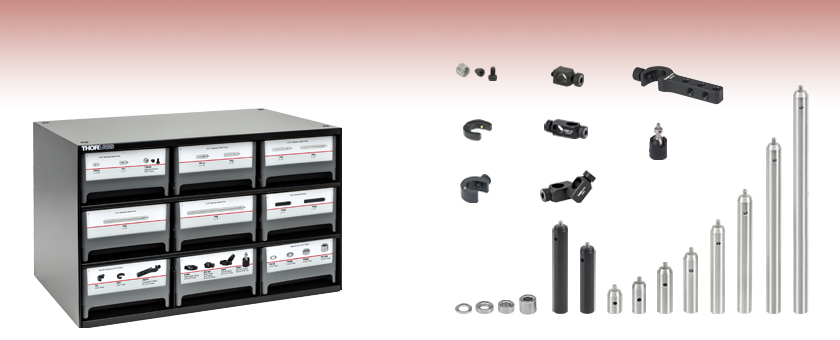 Kit Contains 254 Pieces
Heavy-Duty, Welded Steel Cabinet Frame
Cabinet Frame Can Be Wall Mounted or Stacked
Equipped with Easy-to-Read Labels
Kit Components
See Contents Tab for All Items Included in the Kit
ESK16

Please Wait

Click to Enlarge
Slots on the rear of the case allow for wall mounting.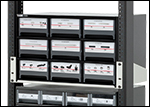 Click to Enlarge

ESK16 shown on an
RK4102
rack shelf, which is installed in an
RK3884
19" rack.
Features
Imperial and Metric Kits
Frame Dimensions (L x W x H): 17" x 11" x 11" (432 mm x 279 mm x 279 mm)
Drawer Dimensions (L x W x H): 10.56" x 5.19" x 3.06" (268 mm x 132 mm x 78 mm)
Easy-to-Read Labels List Contents Each Drawer
Increased Savings Over Individual Component Products
The ESK16(/M) kit contains our popular Ø1/2" posts, post spacers, and post construction accessories, appropriate for basic optomechanical setups as well as a range of axial setups. Refer to the Contents tab above for detailed information about the components included with the imperial and metric versions of the kit. Complement this kit with our ESK01 (ESK01/M) Bases and Post Holders Kit or our ESK14 (ESK14/M) Clamping Forks and Post Holders Kit.
Mounting Options
The kit can be stored on a tabletop for easy, convenient access or placed on an RK4101 or RK4102 rack shelf, both of which can be installed in our RK3884 standard 19" rack. The image to the right shows an ESK16 kit as well as another custom-labeled ST9 cabinet installed in a 19" rack. The cabinet used in each Essential Series Kit features slots in the rear of the case (see image to far right) for wall mounting and features indentations on the top and four feet on the bottom for stable stacking. Warning: each kit weighs 42 lbs (19.1 kg); ensure that the wall and wall mounts can support at least this weight before mounting the unit.
Kit Components
Each kit includes the components below and an ST9 9-Drawer Cabinet. In cases where the metric and imperial kits contain parts with different item numbers, metric item numbers and measurements are indicated in parentheses.
Posts
Item # and Description
Photo
(Click to
Enlarge)
Quantity
TR075 (TR20/M)
Ø1/2" Optical Post, SS, 8-32 (M4) Setscrew, L = 0.75" (20 mm),
1/4"-20 (M6) Tap


20
TR1 (TR30/M)
Ø1/2" Optical Post, SS, 8-32 (M4) Setscrew, L = 1" (30 mm),
1/4"-20 (M6) Tap


20
TR1.5 (TR40/M)
Ø1/2" Optical Post, SS, 8-32 (M4) Setscrew, L = 1.5" (40 mm),
1/4"-20 (M6) Tap


20
TR2 (TR50/M)
Ø1/2" Optical Post, SS, 8-32 (M4) Setscrew, L = 2" (50 mm),
1/4"-20 (M6) Tap


20
TR3 (TR75/M)
Ø1/2" Optical Post, SS, 8-32 (M4) Setscrew, L = 3" (75 mm),
1/4"-20 (M6) Tap


20
TR4 (TR100/M)
Ø1/2" Optical Post, SS, 8-32 (M4) Setscrew, L = 4" (100 mm),
1/4"-20 (M6) Tap


20
TR6 (TR150/M)
Ø1/2" Optical Post, SS, 8-32 (M4) Setscrew, L = 6" (150 mm),
1/4"-20 (M6) Tap


20
TR8 (TR200/M)
Ø1/2" Optical Post, SS, 8-32 (M4) Setscrew, L = 8" (200 mm),
1/4"-20 (M6) Tap


10
TRA2 (TRA50/M)
Ø1/2" Aluminum Post, 8-32 (M4) Setscrew, L = 2" (50 mm),
1/4"-20 (M6) Tap


20
TRA3 (TRA75/M)
Ø1/2" Aluminum Post, 8-32 (M4) Setscrew, L = 3" (75 mm),
1/4"-20 (M6) Tap


20
Construction Accessories
Item # and Description
Photo
(Click to
Enlarge)
Quantity
PMTR (PMTR/M)
Component Clamp for Ø1/2" Posts, 1/4"-20 (M6) Taps


3
R2 (R2/M)
Slip-On Post Collar for Ø1/2" Posts


10
R2T
Thin Slip-On Post Collar for Ø1/2" Posts, 5 Pack


1
SWC (SWC/M)
Swivel Post Clamp, 360° Continuously Adjustable


3
RA90 (RA90/M)
Right Angle Post Clamp, Fixed 90° Adapter


10
RA180 (RA180/M)
Right-Angle End Clamp for Ø1/2" Posts,
1/4"-20 (M6) Stud and 3/16" (5 mm) Hex


5
TRK05
Anti-Rotation Alignment Key for TR Series Posts


5
TRB1 (TRB1/M)
Locking Ball and Socket Mount, 8-32 (M4) Threaded


3
TR1M
Ø1/2" Post Spacer, 1 mm Thick, 5 Pack


1
TR3M
Ø1/2" Post Spacer, 3 mm Thick, 5 Pack


1
TR5M
Ø1/2" Post Spacer, 5 mm Thick, 5 Pack


1
TR10M
Ø1/2" Post Spacer, 10 mm Thick, 5 Pack


1