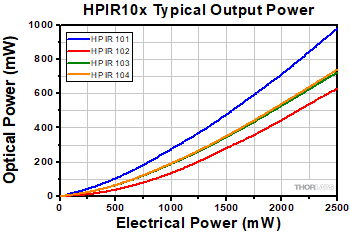 Click to Enlarge
The typical output power for Thorlabs' High-Power IR Emitters. Additional performance details can be found on the
Graphs
tab.
Key Specificationsa
Item #
HPIR101
HPIR102
HPIR103
HPIR104
Wavelength
Range
2 - 16 µm
2 - 6 µm
2 - 14 µm
2 - 11 µm
Window
N/A
Soldered
Sapphire
Soldered
BaF2
Soldered
CaF2
Collimator
N/A
N/A
Winston Cone
Gas Filling
N/A
N2
Features
Pulsable Broadband Output
Near-Blackbody Emittance
Nanostructured Radiating Element
Available With or Without Soldered Windows
TO-8 Can Package
Externally SM1-Threaded (1.035"-40) Mounting Adapter Available
Thorlabs' High-Power IR Emitters are pulsable, thermal blackbody sources that feature a 40 mm2 emitter area and >0.9 emissivity over a broad spectral range. Each emitter features a free-standing monolithic radiating element, which offers improved efficiency as well as better mechanical stability and shock resistance compared to wound filaments. The radiating element is made of high-melting metal with a nanostructured surface that increases the optical emissivity. To achieve maximum efficiency, each emitter also includes an integrated reflector that directs the backside emitted radiation towards the front of the housing.
The emitters are available with open housings (HPIR101) or hermetically sealed with soldered windows made from sapphire (HPIR102), barium fluoride (HPIR103), or calcium fluoride (HPIR104). Versions with soldered windows are suitable for the measurement of flammable gases. The soldered windows are leak tested and offer improved long term stability compared to conventional glued windows. All sealed IR emitters are filled with nitrogen gas; please contact Tech Support for other gas fillings. The HPIR103 and HPIR104 models feature a Winston cone collimator, narrowing the emission angle of the emitted radiation.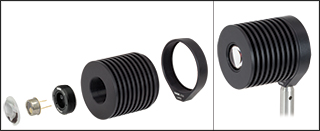 Click to Enlarge
HPIR102 Bulb Mounted in
HSLT2
Heatsink Lens Tube
with
CaF2 Plano-Convex Lens
Using HPIRM Mounting Adapter
The HPIRM Mounting Adapter has external SM1 (1.035"-40) threads that enable the HPIR bulbs to be integrated into our Ø1" Lens Tube Systems and SM1-Threaded Kinematic Mounts. The bulb is held in the HPIRM mount using an SM17RR Ø17 mm Retaining Ring (included), which can be tightened using our SPW801 Adjustable Spanner Wrench. The adapter can be installed in an SM1-threaded lens tube or mount using the SPW909 or SPW801 Spanner Wrenches.
Please note that the housing of the emitter will heat up during operation. Although operation without a heatsink is possible without damaging the emitter, we recommend using a suitable heatsink like the HSLT2 passive-heat-sink lens tube in combination with the HPIRM mounting adapter for long term operation. An example is depicted to the left.
Item #
HPIR101
HPIR102
HPIR103
HPIR104
Wavelength Range
2 - 16 µm
2 - 6 µm
2 - 14 µm
2 - 11 µm
Radiating Element Emissivity
>0.9
Modulation Deptha
70% at 2.5 Hz
Maximum Current
660 mA
Maximum Voltage (Typical)
3.8 V
Maximum Electrical Power (DC)b
2.5 W
Electrical Resistance (Typical)
5 - 6 Ω
Radiating Element Area (Emitter Size)
40 mm2
Housing Type
TO-8
Window
N/A
Soldered Sapphire
Soldered BaF2
Soldered CaF2
Collimator
N/A
N/A
Winston Cone
Gas Filling
N/A
N2
Radiating Element Temperature (Typical)
630 °C
Operating Temperature (Non-Condensing)
-25 °C to 85 °C
Storage Temperature
-25 °C to 85 °C
Typical Lifetime
>30 000 h