Features
Fiber Inspection Scope to Examine Fiber Polish Quality
SMA Height Gauge for Connector Coupling Applications
Eye Loupes Provide 6X or 10X Magnification
Head-Worn Magnifier Provides Hands-Free 2X Magnification
Inspection Mirror with Telescoping Handle
The tools on this page are primarily used for inspecting fiber optic ends and other optics. A fiber inspection scope is used to examine the polished end of a terminated fiber. The scope illuminates and magnifies the fiber tip so scratches and other defects can be seen. An SMA connector height gauge provides a way to accurately measure the length of an SMA905 connector, which is important in SMA to SMA coupling. Our premium eye loupes with 6X or 10X magnification are ideal for use in quality control departments. We also offer a head-worn magnifier, and an inspection mirror.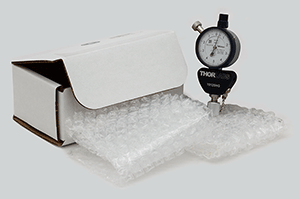 Click to Enlarge
10125HG Packaging

Item #
% Weight
Reduction
CO2-Equivalent
Reductiona
10125HG
44.38%
1.59 kg
Smart Pack
Reduce Weight of Packaging Materials
Increase Usage of Recyclable Packing Materials
Improve Packing Integrity
Decrease Shipping Costs
Thorlabs' Smart Pack Initiative is aimed at waste minimization while still maintaining adequate protection for our products. By eliminating any unnecessary packaging, implementing packaging design changes, and utilizing eco-friendly packaging materials for our customers when possible, this initiative seeks to improve the environmental impact of our product packaging. Products listed above are now shipped in re-engineered packaging that minimizes the weight and the use of non-recyclable materials.b As we move through our product line, we will indicate re-engineered packages with our Smart Pack logo.