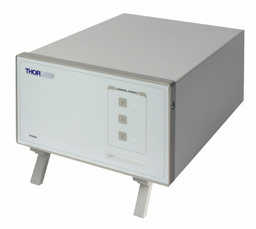 BSC203 (Use with our DRV Series of Stepper Motors)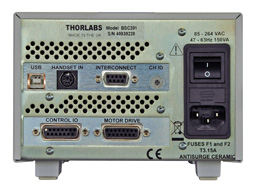 Click to Enlarge
Features
High-Resolution Microstepping Control for Very Fine Positioning Applications
Differential Encoder Feedback (QEP Inputs) for Closed-Loop Positioning
Motor Control I/O Port (Jogging, Interlocks)
Full Software Control Suite Supplied
Intuitive Software Graphical Control Panels
Extensive ActiveX® Programming Interfaces
Fully Integrated Software for Use with Other APT™ Family Controllers
These APT Stepper Motor Controllers are the next generation of enhanced controllers using the familiar APT User interface. Many new features are provided, including a choice between trapezoidal and S-shaped velocity profiles, a higher theoretical microstep resolution (409,600 for a 200 full step motor), and speeds more than twice that achieved by their predecessors.
Designed for use with our DRV series of actuators (DRV208, DRV013, DRV014, and legacy DRV001), these one-, two- and three-channel 50 W stepper motor controllers are capable of driving high-power, 2-phase bi-polar stepper motors, with or without encoder feedback. They have been designed to drive the higher power, stepper-motor-equipped nanopositioning actuators and stages offered by Thorlabs (e.g., LNR50S and NRT150). Alternatively, generic two-phase, bi-polar motors of varying step sizes can also be driven; see the Specs tab for compatible motor information. Cables for connecting the DRV series actuator to the controller are shipped with the actuators, however replacement cables are available: the 1 m long PAA612 and the 3 m long PAA613. Please note that these controllers are not suitable for use with our ZST or ZFS series of stepper motors.
USB connectivity provides easy plug-and-play PC operation. Multiple units can be connected to a single PC via standard USB hub technology for multi-axis motion control applications. Coupling this with the very user friendly APT software allows the user to very quickly get up and running with reasonably complex move sequences in a short period of time. For example, all relevant operating parameters are set automatically for Thorlabs' stage/actuator products. Advanced custom motion control applications and sequences are also possible using the extensive ActiveX® programming environment described in more detail on the Motion Control Software and APT Tutorials tabs.
Additionally, these APT controllers support Thorlabs' 2-axis joystick console. This joystick console provides intuitive, tactile, manual positioning along with two-axis control. In most applications, the default parameter settings saved within the controller allow the joystick to be used out-of-the-box, with no need for further setup, thereby negating the requirement to be connected to a host PC and allowing true remote operation. However, depending on the actuator being driven, some software setting adjustment may be required. All cables are supplied. Please note this joystick is not compatible with former generation BSC10x series controllers.
Owners of our two-channel BSC202 controller may have their controllers upgraded by Thorlabs to support a third channel. Please contact Tech Support for more details.
Item #
BSC201
BSC202, BSC203
Input and Output
Motor Drive Connector
(15-Pin, D-Type Female)
2-Phase Bipolar Motor Drive Output
Differential Quadrature Encoder (QEP) Input
Forward, Reverse Limit Switch Inputs
Encoder 5 V (with Ground)
Control IO Connector
(15-Pin, D-Type Female)
Jog Forward/Back Input (TTL)
User Logic Input/Output (TTL)
Single-Ended Analog Input (0 - 10 V)
User 5 V (with Ground) 100 mA Max
Trigger Input/Output (TTL)
Motor Resolution
Microsteps per Full Step
2048
For 200 Step Motor
409,600 Microsteps/Rev
Motor Drive Voltage
48 V
Motor Drive Power
Up to 50 W (Peak) / 25 W (Average)
Motor Speeds
Up to 3000 RPM (200 Full Step Motor)
Encoder Feedback Bandwidth
500 KHz (500,000 Counts/s)
Input Power Requirementsa
Voltage
85-264 VAC
Power
100 W (Peak)
200 W (Peak)
Fuse
3.15 A
General
Housing Dimensions (W x D x H)
152 mm x 244 mm x 104 mm (6" x 9.6" x 4.1")
240 mm x 360 mm x 133 mm (9.5" x 14.2" x 5.2")
Weight
3.18 kg (7 lbs)
6.7 kg (14.75 lbs)
Compatible Motor Specifications
Peak Powers
15 to 50 W
Average Power
25 W (Max)
Step Angle Range
20° to 1.8°
Coil Resistance (Typical)
4 - 15 Ω
Coil Inductance (Typical)
4 - 15 mH
Rated Phase Currents (Typical)
0.1 - 1 A
Control I/O Connector

Motor Drive Connector

| Pin | Description | Return | Pin | Description | Return |
| --- | --- | --- | --- | --- | --- |
| 1 | User 5 V I/O | 9 | 9 | User 0 V | - |
| 2 | Jog Forwardsa | 9 | 10 | Jog Backwardsa | 9 |
| 3 | Not Used | 9 | 11 | Analog Inb | 9 |
| 4 | Trigger In | - | 12 | Trigger Out | 9 |
| 5 | User 0 V | - | 13 | Not Used | 5 |
| 6 | Not Used | - | 14 | Not Used | 6 |
| 7 | Digital (User) In | - | 15 | Digital (User) Out | 9 |
| 8 | Keyed Pin | - | | | |

| Pin | Description | Pin | Description |
| --- | --- | --- | --- |
| 1 | Encoder A +ve | 9 | CW Limit Switch |
| 2 | Encoder A -ve | 10 | CCW Limit Switch |
| 3 | Encoder B +ve | 11 | 0 V User |
| 4 | Encoder B -ve | 12 | For Future Use |
| 5 | 5 V User | 13 | For Future Use |
| 6 | For Future Use | 14 | Motor Phase B+ |
| 7 | Motor Phase B- | 15 | Motor Phase A+ |
| 8 | Motor Phase A- | | |
Computer Connection

USB Type B



USB Type B to Type A Cable Included

Remote Handset Connector

Compatible with MJC001 Joystick

| Pin | Description |
| --- | --- |
| 1 | RX (Controller Input) |
| 2 | Ground |
| 3 | Ground |
| 4 | +5V, 100 mA Power Supply |
| 5 | TX (Controller Output) |
| 6 | Ground |
Driver Flexibility
Stepper motors provide better low-speed performance and positioning stability than their DC servo motor counterparts. A wide range of 2-phase, bipolar stepper motors and associated actuators are commercially available, each with its own characteristics, such as step resolution, peak phase current or voltage, and lead screw pitch. To support such a wide range of motors, the apt™ BSC200 Series Stepper Controller is fully configurable (parameterized) with key settings exposed through the associated software graphical interface panels. Motor step resolution and lead screw pitch can be set for a particular motor/actuator combination, phase currents can be limited to suitable peak powers as required, and limit switch configuration is accommodated through flexible logic settings.
Moreover, relative and absolute moves can be initiated with move profiles set using velocity profile parameters (including acceleration/decelleration). Similarly, homing (zero position datum) sequences have a full set of associated parameters that can be adjusted for a particular stage or actuator. For simplicity of operation, the apt™ software incorporates pre-configured settings for each Thorlabs stage and actuator, while still exposing all parameters individually for use with third-party stepper-motor-driven systems.
For convenience and ease of use, adjustment of all key parameters is possible through direct interaction with intuitive software graphical panels. For example, a move to the next position can be initiated by clicking directly on the position display and entering a new value.
Note that all such settings and parameters are also accessible through the ActiveX® programmable interfaces for automated alignment sequences. Refer to the Motion Control Software tab for further information on the apt™ software support for the BSC200 Series.
Full Software GUI Control Suite & ActiveX® Controls Included
A full and sophisticated software support suite is supplied with the BSC200. The suite includes a number of out-of-the-box user utilities to allow immediate operation of the unit without any detailed pre-configuration. All operating modes can be accessed manually, and all operating parameters may be changed and saved for next time use. For more advanced 'custom' motion control applications, a fully featured ActiveX® programming environment is also included to facilitate custom application development in a wide range of programming environments. Note that all such settings and parameters described above are also accessible through these ActiveX® programmable interfaces. For further information on the apt™ software support for the BSC200 series, refer to the Motion Control Software tab. Demonstraton videos illustrating how to program the apt™ software are also available for viewing on the Video Tutorial tab.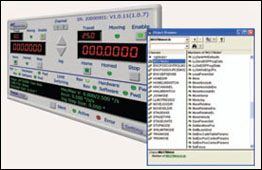 The ActiveX® apt™ system software shipped with these stepper motor controllers is also compatible with other members of the apt™ family of controllers, including our multi-channel, rack-based system and smaller optical table mountable 'Cube' controllers. This single, unified software offering allows seamless mixing of apt™ benchtop, table top, and rack-based units in any single positioning applicaiton.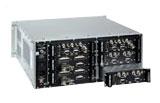 The key innovation of the apt™ range of controllers and associated mechanical products is the ease and speed with which complete automated alignment/positioning systems can be engineered at both the hardware and software level. All controllers in the apt™ range are equipped with USB connectivity. The 'multi-drop' USB bus allows multiple apt™ units to be connected to a single controller PC using commerical USB hubs and cables. When planning a multi-channel application, simply add up the number and type of drive channels required and connect together the associated number of APT controllers.
Encoded Feedback - Positioning Accuracy
These stepper motor controllers also supports encoder feedback through dedicated quadrature-encoded pulse (QEP) inputs. A "built in" algorithm can be enabled to allow the stepper system to reach and maintain an encoded position through a highly configurable iterative move sequence. For custom closed-loop algorithms, the apt™software exposes the encoder position for access through the ActiveX® programmable interfaces.
Software Developers Support CD
A developer's kit is shipped with all of our apt™ series controllers. This additional software support is intended for use by software developers working on large, system integration projects that incorporate apt™ products. The kit contains an extensive selection of useful code samples as well as a library of Video Tutorials.
Thorlabs offers two platforms to drive our wide range of motion controllers: our Kinesis® software package or the legacy APT™ (Advanced Positioning Technology) software package. Either package can be used to control devices in the Kinesis family, which covers a wide range of motion controllers ranging from small, low-powered, single-channel drivers (such as the K-Cubes™ and T-Cubes™) to high-power, multi-channel, modular 19" rack nanopositioning systems (the APT Rack System).
The Kinesis Software features .NET controls which can be used by 3rd party developers working in the latest C#, Visual Basic, LabVIEW™, or any .NET compatible languages to create custom applications. Low-level DLL libraries are included for applications not expected to use the .NET framework. A Central Sequence Manager supports integration and synchronization of all Thorlabs motion control hardware.

Kinesis GUI Screen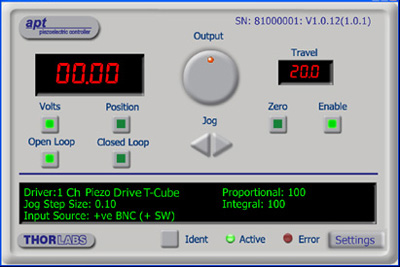 APT GUI Screen
Our legacy APT System Software platform offers ActiveX-based controls which can be used by 3rd party developers working on C#, Visual Basic, LabVIEW™, or any Active-X compatible languages to create custom applications and includes a simulator mode to assist in developing custom applications without requiring hardware.
By providing these common software platforms, Thorlabs has ensured that users can easily mix and match any of the Kinesis and APT controllers in a single application, while only having to learn a single set of software tools. In this way, it is perfectly feasible to combine any of the controllers from single-axis to multi-axis systems and control all from a single, PC-based unified software interface.
The software packages allow two methods of usage: graphical user interface (GUI) utilities for direct interaction with and control of the controllers 'out of the box', and a set of programming interfaces that allow custom-integrated positioning and alignment solutions to be easily programmed in the development language of choice.
A range of video tutorials is available to help explain our APT system software. These tutorials provide an overview of the software and the APT Config utility. Additionally, a tutorial video is available to explain how to select simulator mode within the software, which allows the user to experiment with the software without a controller connected. Please select the APT Tutorials tab above to view these videos.
Software
Kinesis Version 1.14.21
The Kinesis Software Package, which includes a GUI for control of Thorlabs' Kinesis and APT™ system controllers.
Also Available:

These videos illustrate some of the basics of using the APT System Software from both a non-programming and a programming point of view. There are videos that illustrate usage of the supplied APT utilities that allow immediate control of the APT controllers out of the box. There are also a number of videos that explain the basics of programming custom software applications using Visual Basic, LabView and Visual C++. Watch the videos now to see what we mean.
To further assist programmers, a guide to programming the APT software in LabView is also available.