General Specificationsa
Breadboard Thickness
25 mm (0.98")
Top Skin Flatness
±0.15 mm (±0.006") Over Any 0.3 m2
Construction
Double-Plate, Single-Honeycomb Core,
Athermalized Aluminum Design
Top Plate
6 mm Thick Aluminum
Bottom Plate
3 mm Thick Aluminum
Core
High-Density Plated Aluminum Honeycomb
Finish
Matte Black Paint
Maximum Screw Depth
6 mm (0.24") from Top Surface
Breadboard Mounting
1/4"-20 (M6) Taps on Bottom Plate
Features
Thickness: 25 mm (0.98")
Sides with Smooth Finish (Imperial) or T-Slot (Imperial or Metric) for 25 mm Rail Compatibility
Lighter than Equivalent Surface Area Solid Aluminum Surface Plates
All-Aluminum Plates and Core for Matching CTE to Reduce Thermal Effects
Large Range of Sizes (W x L):

Imperial: 1' x 1' to 3' x 4'
Metric: 300 mm x 300 mm to 900 mm x 1500 mm

More Rigid than 0.5" Thick Solid Aluminum Breadboards (See Construction Tab for Details)
Matte Black Painted Surface Reduces Reflectivity and Backscatter
High-Density Honeycomb Core Provides Static and Dynamic Rigidity
Custom Sizes Available; Contact Tech Support for Details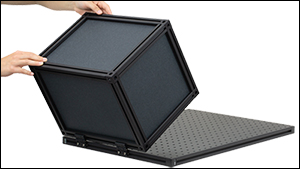 Click to Enlarge

optical enclosure
can be constructed and attached to the side of a 25 mm rail compatible breadboard for easy placement of the enclosure. Please note this application requires the use of drop-in
T-Nuts
and standard
8-32 cap screws
for attaching the hinges to the breadboard.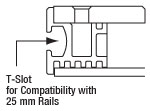 Click for Details

The T-Slot located on the sides is compatible with our 25 mm
rails
and
accessories
.
Thorlabs' UltraLight™ Honeycomb Breadboards offer a high strength-to-weight ratio and all-aluminum plates and core. Due to this construction, each breadboard has similar coefficients of thermal expansion throughout, which minimizes thermal instabilities. These breadboards are ideal for optical setups where portability and dynamic rigidity are important. They are typically used as replacements for aluminum, steel, or granite surface plates, as well as for applications demanding a totally nonmagnetic surface. Additionally, breadboards ending in "F" or "A" feature a t-slot that is compatible with our 25 mm rails and accessories. This allows for construction of rail systems or optical enclosures without the loss of taps. These breadboards also have plastic covers on the corners; two have labels with either the item number or serial number.
Choosing an Optical Breadboard
When choosing an aluminum optical breadboard, stiffness is a major consideration. For aluminum optical breadboards, Thorlabs offers two levels of stiffness: high and enhanced. Although most people associate deflection under load with thickness, it is actually the stiffness of a board that determines the deflection.
The higher the stiffness, the better the breadboard's ability to resist bending when a load or force is applied to it. Therefore, when a heavy load is placed in the center of a breadboard with high stiffness, the board will deflect more than it would if the same load were placed on an enhanced stiffness breadboard. This deflection can create misalignment between two components on opposite ends of the breadboard. This is especially important, for example, when conducting experiments that require sliding optical setups across the breadboard while maintaining a straight optical axis.
We also offer a broad selection of Nexus® Steel Honeycomb Breadboards, which provide greater stiffness and vibration damping. For a quick comparison of our different breadboard options, please see the BB Selection Guide tab.
Frame and Isolation Options
We offer a number of support options for breadboards. Our standard breadboard frames are available with rigid supports, or with passive or self-leveling active vibration isolation. We also offer passive and electronic isolator feet for mounting a breadboard on top of a table.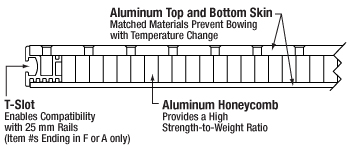 Click to Enlarge

Construction Features
Ultralight™ Honeycomb Aluminum Breadboard Construction
Thorlabs UltraLight™ optical breadboards offer high strength-to-weight ratio and excellent thermal stability. These breadboards are ideal for optical setups where portability and dynamic rigidity are important. Breadboards with item numbers that do not have a letter at the end feature standard aluminum side panels, while those with item numbers ending in F or A feature t-slots with compatiblity with our 25 mm rails and their accessories.
As shown in the diagram to the right, these breadboards incorporate a double-plate, single-honeycomb design, providing excellent stiffness and dynamic rigidity (see test performed below). The top layer consists of a 6 mm aluminum top plate. The second layer adds the main aluminum honeycomb structure and the 3 mm aluminum bottom plate. The main honeycomb core is fabricated from strips of precision-formed plated aluminum, which is bonded together with a high tensile strength epoxy adhesive. This all-aluminum construction minimizes thermal bowing effects caused by temperature variations.
Excellent Surface Flatness
Breadboard flatness is critically important during many experimental setups. Lack of local flatness requires readjustment of components for height variations across the breadboard and can cause component "wobble". Thorlabs breadboards offer an unsurpassed flatness of ±0.15 mm (±0.006") over any 0.3 m2 area due to the high-precision aluminum plates which are specially handled to maintain superior flatness throughout the manufacturing process. A unique thermal bonding process ensures that stress is not induced during manufacture, thereby retaining the flatness of the top plate.
Stiffness Comparison Testing: Honeycomb Aluminum Breadboards vs. Solid Aluminum Breadboards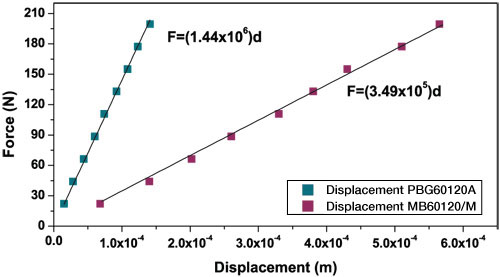 Figure 2:
Plot Showing the Overall Displacement of the PBG60120A and MB60120/M After a Uniform Force was Applied to the Center of the Breadboard (See Diagram to the Left)
Purpose: Show that an UltraLight PBG60120A breadboard measuring 600 mm x 1200 mm x 25 mm with an unpackaged mass of 20.3 kg has a greater stiffness then the equivalent size MB60120/M solid aluminum breadboard that is 0.5" thick and has an unpackaged mass of 23.49 kg.
Procedure: As shown in Figure 1 below, each table was supported by fulcrum points that were spaced 1 m apart. Then, various loads were applied uniformly across the center of the breadboard and the amount of deflection was measured. From the data collected, a plot of Force vs. Displacement was created as shown to the right.


Figure 1: Both breadboards were reinforced at two defined fulcrum points. A uniform
force was then applied to the center of each board and deflection measured.
Results: The result shown in figure 2 shows that the PBG60120A honeycomb aluminum breadboard, which is 14% lighter than the MB60120/M solid aluminum breadboard, is 4.1 times stiffer. This can be found by dividing the two stiffness values, 1.44 x 106 and 3.49 x 105.
Conclusions: As can be seen in Figure 2, it is clear that the PBG60120A UltraLight honeycomb aluminum breadboards, though lighter by 3.19 kg, have a greater stiffness than the MB60120/M 0.5" thick solid aluminum breadboards. Therefore, our UltraLight series of breadboards is an excellent choice if you are looking for a light-weight breadboard with extremely good rigidity.
Breadboards

Nexus, Optimized Damping

Intrinsically Damped

Aluminum Honeycomb

Stainless Steel

Solid Aluminum

Optically Clear Acrylic
Construction
Breadboard Thickness
60 mm (2.4")
110 mm (4.3")
58 mm (2.28")
25 mm (0.98")
55 mm (2.2")
12.7 mm (0.5")
7.0 mm (0.28")
9.5 mm (0.375")
12.7 mm (0.5")
19.05 mm (0.75")
12.7 mm (0.5")
Working Surface
430 Grade Stainless Steel or 304L Grade Nonmagnetic Steel Top Plate
430 Grade Stainless Steel Top Plate
Aluminum
416 Grade Stainless Steel
Solid Aluminum
Anodized or Unanodized
Acrylic
Top Skin
5 mm (0.20")
5 mm (0.20")
6 mm (0.24")
N/A

N/A

N/A

Bottom Skin
5 mm (0.20")
3 mm (0.12")
3 mm (0.12")
N/A
N/A
N/A
Core Design
High-Density Plated Steel Honeycomb, 0.26 mm Thick
High-Density Plated Aluminum Honeycomb
N/A

N/A

N/A

Side Panels
Rigid Steel Box Section
Unplasticized Polyvinyl Chloride (uPVC)
Black Laminated
Aluminum Sides
N/A

N/A

N/A

Ferromagnetism
Magnetic or Non-Magnetic Options
Magnetic
Non-Magnetic
Magnetic
Non-Magnetic
Sealed Holes
Sealed (25 mm Depth) or Non-Sealed Options
Non-Sealed
N/A

N/A

N/A

Thread Options
1/4"-20 (M6) Tapped Holes
1/4"-20 (M6) Tapped Holes
1/4"-20 (M6) Tapped Holes
1/4"-20 (M6), 4-40 (M3), or
8-32 (M3) and 1/4"-20 (M6) Tapped Holes
1/4-20" Tapped Holes
Spacing
1" (25 mm) Centers
1" (25 mm) Centers
1" (25 mm) Centers
1" (25 mm) Centers or
0.5" (12.7 mm) Centers
0.5" (12.7 mm) Centers
Distance from
Edge to First Holes
0.5" (12.5 mm) on all Sides
0.5" (12.5 mm) or
1.0" (25 mm) on all Sides
0.5" (12.5 mm) on all Sides
0.5" (12.5 mm) on all Sides
1.0" (25.4 mm) on all Sides
Performancea
Damping
N/A
N/A
N/A
Stiffness

60 mm (2.4") Thick

58 mm (2.28") Thick

25 mm (0.98") Thick
12.7 mm (0.5") Thick

7.0 mm (0.28") Thick

12.7 mm (0.5") Thick

110 mm (4.3") Thick

55 mm (2.2") Thick
19.05 mm (0.75") Thick
Optical Breadboard Selection Guides
The selection guides below list every size offered for our honeycomb, solid aluminum, and acrylic breadboards. Simply locate the specific width and length needed and then select the type of breadboard. Expand each table by clicking the More [+] button within the header.

Thorlabs also offers several unique breadboard solutions. For applications requiring temperature control, we offer anodized aluminum water cooled breadboards in several sizes, in addition to a temperature-controlled mini-series breadboard for small-scale operations. Our anodized aluminum large-area translation stages and rotating breadboards offer hand-operated positioning control, while our manual and motorized translating mounting platforms are ideal for use in microscopy applications.
Imperial Optical Breadboard Size Options
Width
Length
Honeycomb
Stainless Steel
Solid Aluminuma
Acrylic, Transparent
Nexus
(60 mm Thick)b
Nexus
(110 mm Thick)b
Intrinsically Damped
(58 mm Thick)
Aluminum
(25 mm Thick)
Aluminum
(55 mm Thick)
Standard
Double Density
High Density
Metric Optical Breadboard Size Options
Width
Length
Honeycomb
Stainless Steel
Solid Aluminuma
Nexus
(60 mm
Thick)b
Nexus
(110 mm
Thick)b
Intrinsically Damped
(58 mm Thick)
Aluminum
(25 mm Thick)
Aluminum
(55 mm Thick)
Standard
Double Density
High Density