Cage Translation Stage and Accessories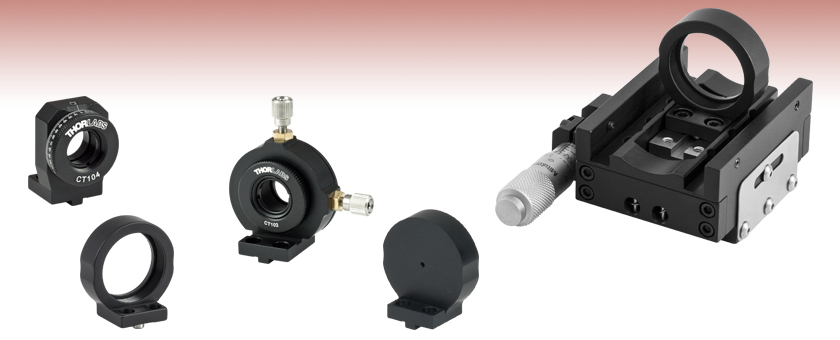 1/2" (12.7 mm) Travel Along Optic Axis
30 mm Cage Compatible
Modular Design with Interchangeable Optic Mounts
CT104
Ø1/2" Rotation
Mount
CT101
Ø1" (Ø25 mm)
Optic Mount
CT102
Ø1/2" X-Y
Translation Mount
CT103
Blank Plate for
Custom Machining
CT1
1/2" (12.7 mm) Travel

Please Wait
The CT1 Cage Translation Stage travels 1/2" (12.7 mm) along the optical axis (or z-axis) of a 30 mm cage system. This translator includes a CT101 Ø1" optic mount, which is also available separately below. In addition, we offer other optic mounts that are designed for both the CT1 and the 1/4" Translation Stages. See below for details.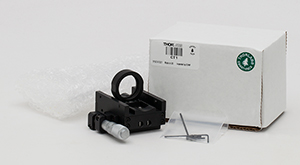 Click to Enlarge
CT1 Packaging

Item #
% Weight
Reduction
CO2-Equivalent
Reductiona
CT1
39.62%
31.78 kg
Smart Pack
Reduce Weight of Packaging Materials
Increase Usage of Recyclable Packing Materials
Improve Packing Integrity
Decrease Shipping Costs
Thorlabs' Smart Pack Initiative is aimed at waste minimization while still maintaining adequate protection for our products. By eliminating any unnecessary packaging, implementing packaging design changes, and utilizing eco-friendly packaging materials for our customers when possible, this initiative seeks to improve the environmental impact of our product packaging. Products listed above are now shipped in re-engineered packaging that minimizes the weight and the use of non-recyclable materials.b As we move through our product line, we will indicate re-engineered packages with our Smart Pack logo.
Travel-based emissions reduction calculations are estimated based on the total weight reduction of packaging materials used for all of 2013's product sales, traveling 1,000 miles on an airplane, to provide general understanding of the impact of packaging material reduction. Calculations were made using the EPA's shipping emissions values for different modes of transport.
Some Smart Pack products may show a negative weight reduction percentage as the substitution of greener packaging materials, such as the Greenwrap, at times slightly increases the weight of the product packaging.