T12 Translation Stages
Travel Range (per Axis)
1/2" (12.7 mm)
Leadscrew Pitch
0.25 mm
Dynamic Horizontal Load (Max)
5 lbs (22 N)
Adjustment
250 µm per Revolution
Straightness
4 µm Over 1/2" Range
Parallelism
3 µm Over 1/2" Range
Static Moment Ratings
Roll
3 N•m
Pitch
4 N•m
Yaw
3 N•m
Features
1/2" (12.7 mm) Travel
X, XY, XZ, and XYZ Versions
2-56 (M2) Mounting Holes
#8 (M4) Counterbored and 8-32 (M4) Tapped Mounting Adapters Available
Unibody Construction for Small Form Factor and Long-Term Stability
Precision Recirculating Ball Bearing Design
Thorlabs' T12 Miniature Translation Stages consist of a hardened steel linear rail and recirculating ball bearing carriage that together provide precise linear motion and high load capacity. The compact form of this design has been achieved without sacrificing the precision of the translator. The combination of a miniature M3 x 0.25 stainless steel adjuster and phosphorous bronze mating nut provides 250 µm of displacement per revolution of the adjuster screw.
Unlike other linear stages, where multiple-axis stages are created using adapter plates, the T12 translation stages have a unibody construction. For example, the XY stage is constructed by machining the movable carriage of the first axis and the body of the second axis out of one part. This design leads to long-term stability and the most compact form with the perpendicularity of the various axes being fixed and accurate. This approach is used for all the configurations offered.
Four 2-56 (M2) mounting holes are provided on the top surface of these stages. Breadboard mounting is best accomplished using the T12B Breadboard Mounting Plate, sold below. For mounting components to the top of the stage, we offer the T12A1 and T12A2(/M) adapter plates, both of which are sold below. The T12A1 adapter has a counterbored mounting hole for 8-32 or M4 cap screws, while the T12A2(/M) adapter has a tapped mounting hole for 8-32 (M4) cap screws.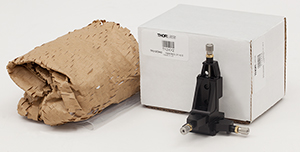 Click to Enlarge
T12XYZ Packaging

Item #
% Weight
Reduction
CO2-Equivalent
Reductiona
T12XYZ
32.66%
0.81 kg
T12XYZ/M
32.66%
2.13 kg
T12X
47.75%
2.00 kg
T12X/M
47.75%
3.56 kg
T12XZ
55.95%
0.61 kg
T12XZ/M
55.95%
0.81 kg
Smart Pack
Reduce Weight of Packaging Materials
Increase Usage of Recyclable Packing Materials
Improve Packing Integrity
Decrease Shipping Costs
Thorlabs' Smart Pack Initiative is aimed at waste minimization while still maintaining adequate protection for our products. By eliminating any unnecessary packaging, implementing packaging design changes, and utilizing eco-friendly packaging materials for our customers when possible, this initiative seeks to improve the environmental impact of our product packaging. Products listed above are now shipped in re-engineered packaging that minimizes the weight and the use of non-recyclable materials.b As we move through our product line, we will indicate re-engineered packages with our Smart Pack logo.