Item #
Prefixa
Supported
Pin Style
Component
Socket
Max LD
Forward
Voltage
SR9A
A and E
S8060
3.3 V
SR9B
B and H
S8060
SR9C
C and H
S8060
SR9D
D
S8060-4
SR9F
F and G
S8060-4
SR9HA
A and E
S8060
7.5 V
SR9HB
B and H
S8060
SR9HF
F and G
S8060-4
Diode Compatibility with Strain Relief Cables
Laser Diodes
Ø3.8 mm
x
Ø5.6 mm
o
Ø9.0 mm
TO Can Packages
TO-5
x
TO-18
o
TO-46
o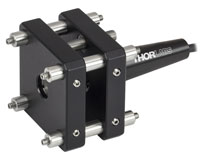 Click to Enlarge
An SR9 Cable Threaded onto an LDH9-P2
30 mm Cage Collimation Mount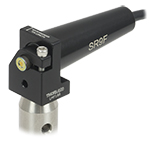 Click to Enlarge
Ø1/2" Post Mount
with
TO-18 Diode Package and
Strain Relief Cable
Featureso
Designed for Use with Either Ø5.6 mm or Ø9 mm Laser Diodes
Includes Laser Socket and 3 Feet (0.91 Meters) of Shielded Cable
External 13/32"-40 Threads Compatible with Select Laser Diode Accessories:
Includes Clamping and Reverse Protection Diodes to Suppress ESD
Available with DB9 Connector for Mating Directly with LDC200C Series Laser Controllers
These strain relief and ESD protection products offer a convenient means of connecting a Ø5.6 mm or Ø9 mm laser diode to many of Thorlabs' laser diode controllers. Each model comes with a laser socket mounted to a small printed circuit board (PCB). The PCB contains a Schottky diode to clamp any reverse voltages that might appear across the laser diode, as well as a Zener diode to shunt any excessive voltages or ESD away from the diode.
Each model corresponds to one or more of the standard Pin Styles for laser diodes (see the diagram below) and is compatible with our Laser Diode Collimation and Focusing Tubes, Ø1/2" Post Mounts, and Cage Plate Mounts. SR9 models are designed for laser diodes with forward voltages up to 3.3 V, while SR9H models are designed for laser diodes with forward voltages up to 7.5 V. Each strain relief is available with or without a DB9 connector. Models with item #'s that end in -DB9 are pin compatible with many of our Laser Diode Controllers (see the strain relief cable and controller pin diagrams to determine compatibility), as well as with the MLDEVAL Evaluation Board for our OEM laser diode controllers. To connect fiber-pigtailed TO can laser diodes to a breadboard or Ø1/2" post, see our L-bracket Passive Fiber-Pigtailed Laser Diode Mount.
Note: These cables are not designed to provide any temperature regulation. More information on temperature regulating a laser diode is provided in the Laser Diode Tutorial.

Supported Pin Codes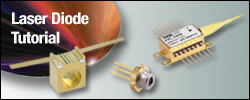 Strain Relief Cable DB9 Connector Pin Configurations
D-type Male


The following pin configurations are provided for strain relief cables that use a DB9 connector (Item #'s ending in -DB9) when used with the compatible style of laser diode. Each relief cable with bare wire leads has the same wire-color-to-laser-diode-pin configuration as its DB9-terminated counterpart.
Pin Configuration for SR9A-DB9, SR9D-DB9,
SR9F-DB9, SR9HA-DB9, and SR9HF-DB9
Pin
Wire Color
Connection
1
-
Connected to Pin 5a
2
White
Photodiode Cathode (PDK) /
Laser Diode Anode (LDA)
3
4
Red
Photodiode Anode (PDA)
5
-
Connected to Pin 1a
6
-
-
7
Green
Laser Diode Cathode (LDK)
8
-
-
9
-
-
Pin Configuration for SR9B-DB9 and SR9HB-DB9
Pin
Wire Color
Connection
1
-
Connected to Pin 5a
2
White
Photodiode Cathode (PDK) /
Laser Diode Cathode (LDK)
3
4
Red
Photodiode Anode (PDA)
5
-
Connected to Pin 1a
6
-
-
7
-
-
8
Green
Laser Diode Anode (LDA)
9
-
-
Pin Configuration for SR9C-DB9
Pin
Wire Color
Connection
1
-
Connected to Pin 5a
2
Red
Photodiode Cathode (PDK)
3
White
Photodiode Anode (PDA) /
Laser Diode Cathode (LDK)
4
5
-
Connected to Pin 1a
6
-
-
7
-
-
8
Green
Laser Diode Anode (LDA)
9
-
-