Fused Silica Microlens Arrays
Plano-Convex Lens Shape
Near Diffraction-Limited Spot Sizes
AR Coated or Chrome Masked
Mounted and Unmounted Versions
Magnified
View
MLA150-7AR
with AR Coating
MLA150-5C-M
Mounted Lens Array
Ideally Suited for Wavefront Sensors

Please Wait
Item #
MLA150-5C(-M)
MLA150-7AR(-M)
MLA300-14AR(-M)
Substrate Material
Fused Silica (Quartz)
Effective Focal Length for Mounted Microlens Arraysa
4.1 mm
5.2 mm
14.6 mm
Wavelength Range
300 - 1100 nm
400 - 900 nm
Lens Type
Round, Refractive, Plano-Convex
Square, Refractive, Plano-Convex
Lenslet Pitch
150 µm
300 µm
Lens Size
Ø140 µm
(Cr Mask Hole)
Ø146 µm
(Lens Diameter)
295 µm
(Square)
Fill Factor (Approximate)b
68.4%
74.5%
96.7%
AR Coating
No
Reflectivity <1% for 400 - 900 nm
Chrome Apertures
Yes, Around Microlenses
No
Reflectivity
<25%c
<1%
Array Size and Type
10 mm x 10 mm x 1.2 mm, Square Grid
Mount Window Aperture
(-M Versions Only)
9 mm x 9 mm
Effective (Optimal) Focal Length of Mounted Microlens Arrays When Built into a Wavefront Sensor
The Fill Factor is a measure of the fraction of incident light reaching the detector. For the MLA150-5C and MLA150-7AR, the fill factor is less than the MLA300-14AR value because the round lenses are arranged on a square grid.
Includes the light reflected off of the chrome mask.
Features
10 mm x 10 mm High-Quality Microlens Array
Available Unmounted or in a Ø1" Mount
Two Wavelength Ranges Available:

400 - 900 nm with an AR Coating
300 - 1100 nm with a Chrome Mask

Fused Silica Substrate
Square Grid Arrangement of Microlenses
Arrays with 150 µm or 300 µm Lenslet Pitches Available
Near Diffraction-Limited Spot Size
High Spot-to-Background Contrast
Use for Custom-Built Shack-Hartmann Wavefront Sensors
These Fused Silica Microlens Arrays are available mounted or unmounted (click here to see an enlarged photo). Fused silica offers excellent transmission characteristics from the UV to the IR. The microlenses have a plano-convex shape and are arranged in a square grid with a lens pitch of 150 µm or 300 µm. The microlens arrays with a pitch of 150 µm have round lenslets, whereas the microlens arrays with a pitch of 300 µm have square lenslets, allowing for a fill factor of 96.7%.
The MLA150-5C microlens array and its mounted counterpart have a chrome mask that blocks light from being transmitted through the spaces between microlenses, thereby increasing the contrast. The unmounted MLA150-7AR and MLA300-14AR lens arrays and their mounted versions have a broadband AR coating on both sides to reduce the surface reflections in the 400 - 900 nm spectral region to below 1%.
These lenses are formed using photolithographic techniques based on semiconductor processing technology, which allows for excellent uniformity in the shape and position of each microlens. Unlike some microlens arrays produced from molded epoxy, this method produces microlens arrays where the spot size of each microlens is nearly diffraction limited.
For the mounted versions, the microlens is glued into a Ø1", 3.5 mm thick mount plate that is compatible with all standard Ø1" optics mounts. The aperture of the lens window is 9 mm x 9 mm. Their unmounted counterparts are most easily held using one of our cylindrical lens mounts, which are specifically designed to hold square or rectangular optics.
For microlens arrays that are ideal for use in custom-built fly's eye homogenizers, please visit the PMMA Microlens Arrays page.

Click to Enlarge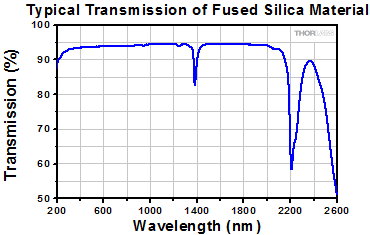 Click to Enlarge
A microlens array used in conjunction with a CCD array can constitute the core of a Shack-Hartmann wavefront sensor. As seen from the figure below, a planar wavefront that is transmitted through a microlens array and imaged on a CCD sensor will form a regular pattern of bright spots. If, however, the wavefront is distorted, the light imaged on the CCD sensor will consist of some regularly spaced spots mixed with displaced spots and missing spots. This information can be used to calculate the shape of the wavefront that was incident on the microlens array. Shack-Hartmann type wavefront sensors can be used to characterize the performance of optical systems. In addition, they are increasingly used in applications where real-time monitoring of the wavefront is used to control an adaptive optic with the intent of removing the wavefront distortion before creating an image.




Click to Enlarge

The fill factor is dependent upon the geometry of the microlens array in the square grid. The MLA300's square microlens array (left) yields a higher fill factor than the MLA150's round microlens array (right).
Fused Silica Substrate
AR Coating (MLA150-7AR and MLA300-14AR) or Chrome Mask (MLA150-5C)
Array Size:

10 mm x 10 mm x 1.2 mm

Square Grid Arrangement of Microlenses
Use in Custom-Built Shack-Hartmann Wavefront Sensors*
*Please Note: Pre-assembled Shack-Hartman wavefront sensors will need to be re-calibrated if these microlenses are used in place of the microlenses already built into the system. To order additional microlens arrays for Thorlabs' Shack-Hartmann Wavefront Sensors, please contact Tech Support

Compatible with Standard Ø1" Optic Mounts

Lens Window Aperture: 9 mm x 9 mm

Array Size:

10 mm x 10 mm x 1.2 mm

Fused Silica Substrate
AR Coating (MLA150-7AR-M and MLA300-14AR-M) or Chrome Mask (MLA150-5C-M)
Square Grid Arrangement of Microlenses
Use in Custom-Built Shack-Hartmann Wavefront Sensors*
*Please Note: Pre-assembled Shack-Hartman wavefront sensors will need to be re-calibrated if these microlenses are used in place of the microlenses already built into the system. To order additional microlens arrays for Thorlabs' Shack-Hartmann Wavefront Sensors, please contact Tech Support