Features
Compact Inline Package
Epoxy-Free Optical Path
High-Power Options for 1064 and 1550 nm
Applications
Add-Drop Multiplexing
Fiber Sensors
Bidirectional Pumping
Bidirectional Signal Transmission Systems
Coupling Inline Chromatic Dispersion Compensation Devices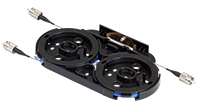 Click to Enlarge

A PM Fiber Circulator Mounted in our
BFCT
Fiber Component Tray
Thorlabs' Polarization-Maintaining (PM) Optic Circulators are non-reciprocating, unidirectional, three-port devices that are used in a wide range of optical setups. Available with a center wavelength of 1064, 1310 (O-Band), or 1550 nm (C-Band), these circulators are fast axis blocked and hence are designed to work with light that is launched into the slow axis. Offered are circulators with no connectors, FC/PC connectors, or FC/APC connectors. Thorlabs also offers Single Mode (SM) Fiber Optical Circulators.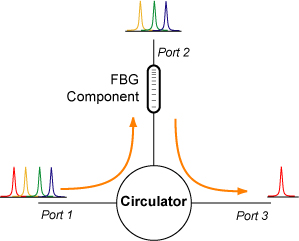 An optical circulator is analogous to an electronic circulator in that both perform similar functions. An optical circulator is a three-port device that allows light to travel in only one direction. A signal entering Port 1 will exit Port 2 with minimal loss, while a signal entering Port 2 will exit Port 3 with minimal loss. Light entering port 2 experiences a large amount of loss at port 1, and light entering port 3 experiences a large amount of loss at ports 2 and 1. Optical circulators are non-reciprocal devices. This means that any changes in the properties of the light caused by passing through the device are not reversed by traveling in the opposite direction.
Because of their high isolation and low insertion loss, optical circulators are widely used in advanced communication systems as add-drop multiplexers, bi-directional pumps, and chromatic dispersion compensation devices.
The example to the left depicts the use of a circulator to drop an optical channel from a DWDM system using a Fiber Bragg Grating (FBG). The input DWDM channels are coupled into Port 1 of the device with a FBG device connected to Port 2. The single wavelength reflected from the FBG then reenters the circulator in port 2 and is routed accordingly to Port 3. The remaining signals pass through the FBG and exit on the top fiber.

Circulators can also be used to send optical signal in two directions down a single fiber. A circulator is located at both ends of the fiber. Each circulator functions to add a signal in one direction while removing the signal in the other. See the example to the right.
For custom wavelength and connector options, please contact Technical Support.
Item #
CIR1064PMa
CIR1310PMa
CIR1550PMa
OC-L-1064
OC-L-1550
Optical Specifications
Wavelength Range
1059 - 1069 nm
1280 – 1340 nm
1520 - 1580 nm
1053 – 1075 nm
1530 – 1570 nm
Insertion Loss
≤2.1 dB
≤0.9 dB
≤0.9 dB
1.3 – 1.9 dB
0.9 – 1.3 dB
Isolationb
≥25 dB
≥40 dB
≥40 dB
30 dB
32 dB
Directivity (1-3)
≥50 dB
≥50 dB
≥50 dB
40 dB
50 dB
Polarization Extinction Ratio
≥20 dB
≥22 dB
≥22 dB
>20 dB
>20 dB
Return Loss
≥50 dB
≥50 dB
≥50 dB
50 dB
55 db
Damage Threshold
300 mW
300 mW
300 mW
3 W
5 W
Mechanical Specifications
Package Dimensions
Ø5.5 mm x 35 mm
32.6 x 44.5 x 63.5 mmc
17.8 x 25.1 x 60.3 mmc
Fiber
SM98-PS-U25D
SM13-PS-U25D
SM15-PS-U25D
PM980-XP PANDA-Style PM Fiber,
Hytrel Loose Tube, Light in Slow Axis
PM1550-XP PANDA-Style PM Fiber,
Hytrel Loose Tube, Light in Slow Axis
Length
1.0 +0.075/-0.0 m
1.2 ± 0.2 m
1.2 ± 0.2 m
Operating Temperature
-5 to 70 °C
10 to 50 °C
10 to 50 °C
Storage Temperature
-40 to 85 °C
-10 to 65 °C
-20 to 70 °C
Operating Relative Humidity
20% - 80%
Storage Relative Humidity
20% - 80%