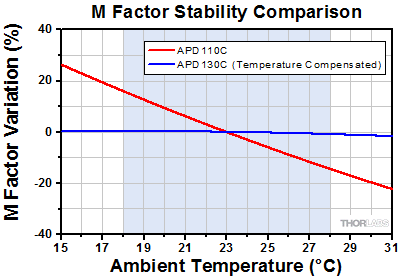 Click to Enlarge
The above plot shows sample data comparing the M factor stability of our temperature-compensated avalanche photodetectors to our standard packages. The blue shaded region indicates the temperature range over which the M factor stability is guaranteed to within ±3%.
Features
Noise Equivalent Powers (NEP) as Low as 0.12 pW/√Hz
Max Bandwidth up to 1 GHz at 3 dB
Temperature-Compensated Versions Provide M Factor Stability of ≤±3% Over 18 to 28 °C
Variable Gain Detectors Available: M Factor from 4 to 20 or 2 to 10
Internal SM05 and External SM1 Threading for Lens Tubes
Power Supply Included
Thorlabs' InGaAs Avalanche photodetectors (APDs) are designed to offer increased sensitivity and lower noise compared to standard PIN detectors, making them ideal for applications with low optical power levels. In addition to our standard APDs, versions featuring variable gain (i.e., M factor) and/or temperature compensation are offered.
In general, avalanche photodiodes use an internal gain mechanism to increase sensitivity. A high reverse bias voltage is applied to the diodes to create a strong electric field. When an incident photon generates an electron-hole pair, the electric field accelerates the electrons, leading to the production of secondary electrons by impact ionization. The resulting electron avalanche can produce a gain factor of several hundred times, described by a multiplication factor, M, that is a function of both the reverse bias voltage and temperature. In general, the M factor increases with lower temperatures and decreases with higher temperatures. Similarly, the M factor will increase when the reverse bias voltage is raised and decrease when the reverse bias voltage is lowered.
Our APD130C(/M) temperature-compensated APD features an integrated thermistor that adjusts the bias voltage to compensate for the effect of temperature changes on the M factor. A comparison with our non-temperature-compensated APDs is provided in the graph to the right.
In addition to being temperature compensated, the APD410C(/M), APD430C(/M), and APD450C variable-gain APDs allow the reverse bias voltage across the diode to be adjusted via a rotary knob on the side of the housing, which varies the M factor continuously from 4 to 20.
For extremely light-sensitive applications, Thorlabs offers Menlo Systems' APD310 variable-gain, high-sensitivity avalanche photodectector, which offers high-speed response up to 1 GHz.
A complete list of all of our APDs, including those that have a silicon photodiode for use at UV and visible wavelengths, can be found on the Selection Guide tab. Please note that these packaged APDs are not suitable for use as single photon counters. Thorlabs has single photon counters available here.
Item #
APD110C
APD130C(/M)
APD410C(/M)
APD430C(/M)
APD450C
Detector Type
InGaAs APD
Wavelength Range
900 - 1700 nm
1260 - 1620 nm
Output Bandwidth (3 dB)
DC - 50 MHz
DC - 10 MHz
DC - 400 MHz
0.3 - 1600 MHz
Active Area Diameter
0.2 mm
75 µm with Ø1.5 mm Ball Lens
Typical Max Responsivity
9 A/W @ 1500 nm (M = 10)a
18 A/W @ 1550 nm (M = 20)
9 A/W @ 1550 nm (M = 10)
Responsivity Graph
(Click to View)
M Factorb
10
4 - 20 (Continuously Adjustable)
2 - 10 (Continuously Adjustable)
M Factor Temperature Stabilityc
Not Specified
±2% (Typical); ±3% (Max)
Transimpedance Gain
50 kV/A (50 Ω Termination)d
100 kV/A (High-Z Termination)
250 kV/A (50 Ω Termination)d
500 kV/A (High-Z Termination)
5 kV/A (50 Ω Termination)d
10 kV/A (High-Z Termination)
5 kV/A (50 Ω Termination)
Max Conversion Gaine,f
0.9 × 106 V/W
9.0 × 106 V/W
1.8 × 105 V/W
45 × 103 V/W
CW Saturation Power
4.2 µW
0.45 µW @ 1550 nm (M = 20)
2.25 µW @ 1550 nm (M = 4)
22 µW @ 1550 nm (M = 20)
110 µW @ 1550 nm (M = 4)
0.1 mW @ 1550 nm (M=10)
0.5 mW @ 1550 nm (M=2)
Max Input Powerg
1 mW
Minimum NEPh
0.46 pW/√Hz (DC - 50 MHz)
0.12 pW/√Hz (DC - 10 MHz)
0.45 pW/√Hz (DC - 100 MHz)
1.1 pW/√Hz (0.3 - 1600 MHz)
Integrated Noisei
3.3 nW (RMS, DC - 50 MHz)
0.38 nW (RMS, DC - 10 MHz)
17 nW (RMS, DC - 400 MHz)
35 pW (0.3 - 1600 MHz)
Electrical Output
50 Ω BNC
50 Ω SMA
Max Output Voltage Swing
1.8 V (50 Ω Termination)
3.6 V (High-Z Termination)
2.0 V (50 Ω Termination)
4.1 V (High-Z Termination)
2.0 V (50 Ω Termination)
DC Offset Electrical Output
< ±15 mV
< ±25 mV
< ±3 mV
N/A
Included Power Supplyj
±12 V @ 250 mA (100/120/230 VAC, 50 - 60 Hz, Switchable)
General
Operating Temperature Range
0 to 40 °C (Non-Condensing)
Storage Temperature Range
-40 to 70 °C
Dimensions (H x W x D)
2.97" x 2.00" x 1.08"
(75.5 mm x 50.8 mm x 27.4 mm)
2.97" x 2.20" x 1.09"
(75.5 mm x 55.8 mm x 27.6 mm)
2.83" x 2.22" x 1.08"
(72.0 mm x 56.3 mm x 27.4 mm)
Item #
APD310
Detector Type
InGaAs APD
Wavelength Range
850 - 1650 nm
Bandwidth
5 MHz - 1000 MHz (3 dB)
1 MHz - 1800 MHz (Max)
Active Area Diameter
0.03 mm
Optical Input
Free Spacea
Conversion Gain (Max)b
2.5 x 104 V/W @ 1 GHz, 1500 nm
Max Input Power
10 mW
NEP (Calculated)c
2 pW/√Hz
Rise Time
500 ps
Dark State Noise Leveld
-80 dBm
Operating Temperature
10 - 40°C
Electrical Output
BNC, 50 Ω
Output Coupling
AC
Current Consumption
200 mA
Supply Voltage
12 - 15 Ve
Dimensions
2.4" x 2.2" x 1.87"
(60 mm x 56 mm x 47.5 mm)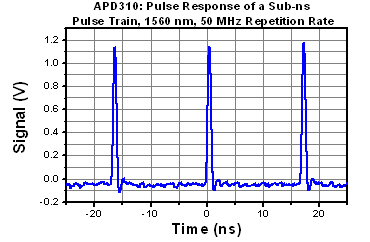 BNC Female Output (Photodetector)

APD Male (Power Cables)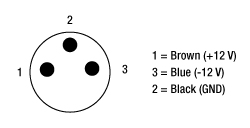 APD Female (Photodetector)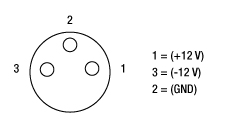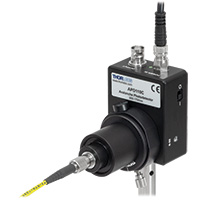 Click to Enlarge
Output from a fiber is coupled into the photodetector using an aspheric lens to focus the signal onto the detector active area.
Fiber Coupling
In fiber coupling applications, we recommend taking into account the divergence of light from the fiber tip to ensure that all of the signal is focused onto the detector active area. When using a standard fiber connector adapter with a detector with an active area smaller than Ø1 mm, high coupling losses and degradation of the frequency response may occur.
To achieve high coupling efficiency, a fiber collimation package, focusing lens, and X-Y translator should be used, as shown in the photo to the right. The avalanche photodetector is shown with a fiber collimator, lens tube collimator adapter, lens tube, and X-Y translation mount. An adapter inside the lens tube holds an aspheric lens (not visible) to focus the collimated light onto the active area of the detector. The X-Y translation mount corrects for any centering issues.
Avalanche Photodetector Selection Guide
Item #
Detector
Type
Wavelength
Range
3 dB Bandwidth
Active Area
Diameter
M Factor
Typical Max
Responsivity
Max
Conversion Gaina
Temperature
Compensated
Variable
Gain
APD440A2
UV Enhanced
Silicon APD
200 - 1000 nm
DC - 0.1 MHz
1 mm
5 - 50
25 A/W @ 600 nm (M = 50)
1.25 x 109 V/W
APD410A2
DC - 10 MHz
0.5 mm
5 - 50
25 A/W @ 600 nm (M = 50)
12.5 x 106 V/W
APD120A2
DC - 50 MHz
1 mm
50
25 A/W @ 600 nm (M = 50)
2.5 x 106 V/W
-
-
APD130A2
DC - 50 MHz
1 mm
50
25 A/W @ 600 nm (M = 50)
2.5 x 106 V/W
-
APD430A2
DC - 400 MHz
0.2 mm
10 - 100
50 A/W @ 600 nm (M = 100)
5.0 x 105 V/W
APD440A
Silicon APD
400 - 1000 nm
DC - 0.1 MHz
1 mm
10 - 100
53 A/W @ 800 nm (M = 100)
2.65 x 109 V/W
APD410A
DC - 10 MHz
1.0 mm
10 - 100
53 A/W @ 800 nm (M=100)
26.5 x 106 V/W
APD120A
DC - 50 MHz
1 mm
50
25 A/W @ 800 nm (M = 50)
2.5 x 106 V/W
-
-
APD130A
DC - 50 MHz
1 mm
50
25 A/W @ 800 nm (M = 50)
2.5 x 106 V/W
-
APD430A
DC - 400 MHz
0.5 mm
10 - 100
53 A/W @ 800 nm (M = 100)
5.3 x 105 V/W
APD210
5 - 1000 MHzb
0.5 mm
N/A
N/A
2.5 x 105 V/Wc
-
APD110C
InGaAs APD
900 - 1700 nm
DC - 50 MHz
0.2 mm
10
9 A/W @ 1500 nm (M = 10)
0.9 x 106 V/W
-
-
APD130C
DC - 50 MHz
0.2 mm
10
9 A/W @ 1500 nm (M = 10)
0.9 x 106 V/W
-
APD410C
DC - 10 MHz
0.2 mm
4 - 20
18 A/W @ 1550 nm (M = 20)
9.0 x 106 V/W
APD430C
DC - 400 MHz
0.2 mm
4 - 20
18 A/W @ 1550 nm (M = 20)
1.8 x 105 V/W
APD450C
1260 - 1620 nm
0.3 - 1600 MHz
1.5 mmd
2 - 10
9 A/W @ 1550 nm (M = 10)
45 × 103 V/W
APD310
850 - 1650 nm
5 - 1000 MHze
0.03 mm
N/A
N/A
2.5 x 104 V/Wf
-