Laser Diode Mount with TEC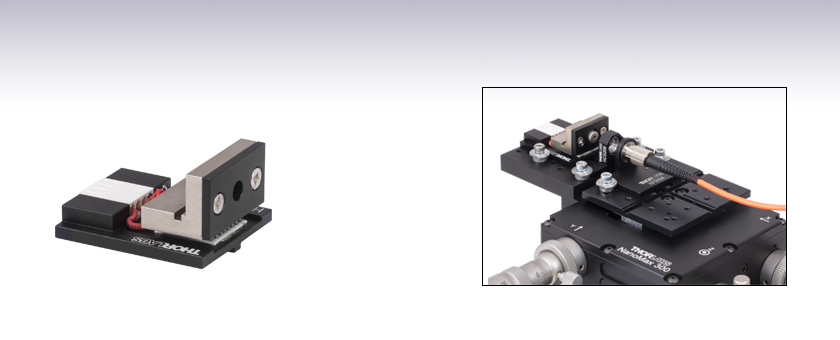 Integrated TEC Element
Ø5.6 mm and Ø9 mm LD Packages Supported
Compatible with Multi-Axis Stage Platforms
Application Idea
Fiber Launch Using NanoMax 3-Axis Stage
HLD001

Please Wait
Specifications
Laser Diode Package
Ø5.6 mm and Ø9 mm
TEC Current
3.0 A (Max)
TEC Voltage
3.75 V (Max)
QMAX (@ IMax)a
6.3 W
dTMAX (@ IMax)b
67 °C
Temperature Sensor
10 kΩ Thermistor
Maximum amount of heat that can be absorbed at the cold face of the TEC.
Maximum difference in temperature achievable between the hot and cold faces of the TEC.
Pin Connections
Pin 1
Peltier Cooler +Ve
Pin 2
Thermistor
Pin 3
Thermistor
Pin 4
Peltier Cooler -Ve
Features
Thorlabs' HLD001 TEC stabilized laser mount is designed to integrate our Ø5.6 mm and Ø9 mm laser diodes into our multi-axis flexure platforms as well as provide temperature regulation for the diodes. The TEC element contained in this mount can sink up to 3 A to keep the laser diode at a constant temperature. Temperature stabilization of laser diodes is necessary for applications which require substantial control over a diodes power and wavelength. Thorlabs offers a wide variety of Temperature and Current Controllers suitable for laser diode temperature and current control. The TTC001 T-Cube™ Temperature Controller is often used in applications that utilize the HLD001 mount.
In addition to providing a TEC for temperature stabilization, the HLD001 mount is also designed to assimilate into a flexure platform. The mount features an alignment key that mates with a keyway of a flexure platform; yielding a simple and accurate method to integrate this mount into a flexure assembly. Integration into these multi-axis flexure mounts provides excellent control over a diode's position and alignment with optical systems.