Achromatic Doublet Pairs, AR Coated: 650 - 1050 nm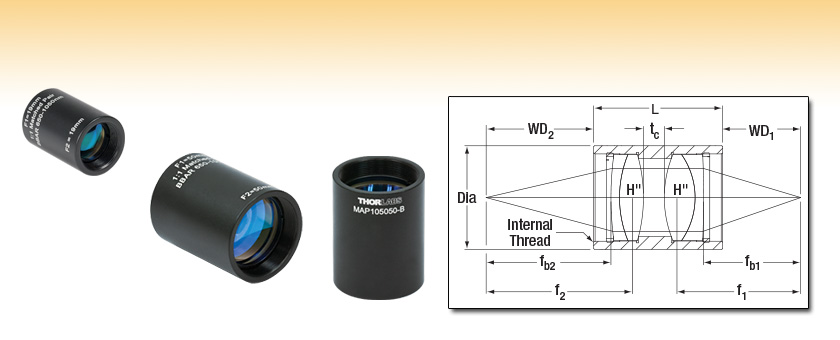 Broadband AR Coating for 650 - 1050 nm
SM05- or SM1-Threaded Housing
Mounts Engraved with Focal Lengths and Magnification
MAP051919-B
MAP105050-B

Please Wait
General Specifications
Design Wavelengths
706.5, 855, and 1015 nm
Focal Length Tolerance
±1%
Reflectance (650 - 1050 nm)
Ravg < 0.5%

Zemax Files
Click on the red Document icon next to the item numbers below to access the Zemax file download. Our entire Zemax Catalog is also available.
Features
Available with Antireflection Coating for 400 - 700 nm or 650 - 1050 nm
Ideal for Image Relay, NA Conversion, or Image Magnification
Different Magnifications for Imaging and Numerical Aperture Matching
Focal Lengths Clearly Marked for Quick Identification
Thorlabs' Matched Achromatic Pairs combine two of our unmounted, cemented achromatic doublets for image relay, NA conversion, or image magnification. Achromatic doublets are designed for infinite conjugate ratios, but are ideal for finite conjugate applications when used in pairs. In finite conjugate applications, both the object and image are a finite distance from the lens pair.
These pairs are housed in SM05 (0.535"-40) or SM1 (1.035"-40) threaded housings, which have outer diameters of Ø0.7" and Ø1.2", respectively. The housing is engraved with the part number, focal lengths, and magnification of the pair, allowing for easy identification. Since the lenses are pre-mounted, there is no need to handle the glass optics, making these achromats ideal for integration into a host of OEM applications.
To achieve the specified magnification, orient the mount so that the end of the housing with the shorter focal length lens is closer to the object. If the lens is used in the reverse direction, the inverse magnification will be achieved. If the two lenses have the same focal length, either orientation of the housing will produce 1:1 magnification.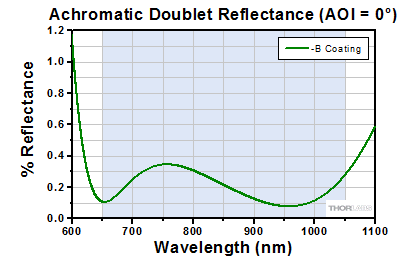 Click to Enlarge
Click
Here
for Raw Data
The shaded region indicates the specified 650 - 1050 nm wavelength range for optimum performance.

Click for Details
Ø1" Achromatic Doublet Pair Mounted in a
CP33
Cage Plate using an
SM1T2
Adapter

Figure 1. LA1509-A Pair

Figure 2. MAP10100100-A Pair
The matched Achromatic Pairs offer superior performance in a simplified package compared to traditional spherical singlets when used for image relay. In the first set of plots to the right, two LA1509-A N-BK7 plano-convex lenses are optimized to image the Thorlabs logo. In the second set of plots, the MAP10100100-A is used to image the logo, and the improvement is obvious. The doublet pair in the MAP configuration is able to minimize the spherical and chromatic aberrations to produce a better image.