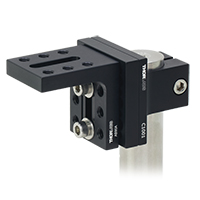 Click to Enlarge
Combine the C1001(/M) with a
AB90A
(
/M
) to create an adjustable platform for a Ø1" post.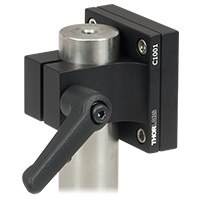 Click to Enlarge

C15QR(/M) Quick-Release Handle Being Used in Place of the 1/4"-20 (M6) Clamping Screw
Features
Mounting Clamp for Ø1" RS-Series Posts
2" x 2" (50.8 mm x 50.8 mm) Mounting Plate
1/4"-20 (M6) Tapped Holes (Qty. 24)
8-32 (M4) Tapped Holes (Qty. 25)
The C1001 Ø1" Post Mounting Clamps are an integral part of our Ø1" Post Assemblies, providing rigid, general-purpose mounting surfaces. These mounting clamps can be used for fastening our wide array of Optomechanical Mounts in much the same way breadboards are commonly used.
The clamping mechanism is directly compatible with our Ø1" RS-Series Posts. Vertical positioning is achieved by sliding the rear clamping mechanism along the length of the Ø1" post. Once the desired vertical position is achieved, the clamping mechanism is actuated with a 3/16" (5 mm) hex key or balldriver.
The C1001 offers a removable front plate [held in place with four 8-32 (M4) cap screws] that provides an array of 1/4"-20 (M6) and 8-32 (M4) tapped holes.
A quick-release handle is also available that allows for a simple and reliable way of securing the C1001 Post Mounting Clamp to a post. It is easily installed by replacing the 1/4"-20 (M6) locking screw in the post clamp. The 2.03" (51.4 mm) long handle contains a 1/4"-20 (M6) threaded stud that engages the part by simply rotating the handle.