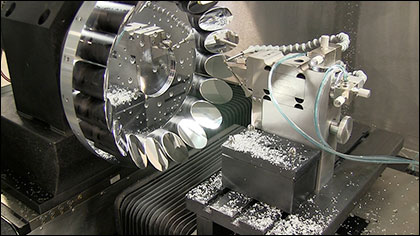 Click to Enlarge
After initial fabrication, all of our off-axis parabolic mirrors are finished on our single-point diamond turning machine. Visit our
Custom Mirrors
tab for more information.
Features
Ravg > 97% from 450 nm - 2 µm; Ravg > 96% from 2 - 20 µm
Centered Hole for Through Beam Parallel to Focused Beam
Ø8 mm Entrance Hole Tapers Down to Ø3 mm Hole in Mirror Surface
Reflected Beam is Focused without Spherical or Chromatic Aberrations
Reflected Focal Lengths: 4", 6", or 9" (50.8 mm, 101.6 mm, 152.4 mm, or 228.6 mm)
Surface Roughness: <100 Å (RMS)
Three Kinds of Mounting Adapters for Ø2" Mirrors:

Externally SM-Threaded
Unthreaded for Use in Mirror Mounts
With 8-32 (M4) Taps for Post Mounting

Custom Off-Axis Parabolas with Holes Available (Contact Tech Support)
Thorlabs' Off-Axis Parabolic (OAP) Mirrors with Through Holes are designed for applications that require two beams to propagate collinearly through space. Their substrates contain a centered bore that joins a beam traveling through the bore with a beam being reflected and focused by the parabolic surface, as illustrated in the diagram below. The Ø8 mm hole in the back of the substrate tapers down to a Ø3 mm hole as it approaches the mirror surface, permitting the through beam to be focused by a lens as it propagates. For more details, please see the Application Notes section below.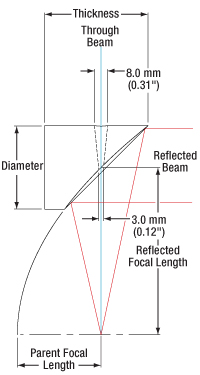 Click to Enlarge
As with the rest of our off-axis parabolas, these are first-surface mirrors whose reflective surfaces are equivalent to segments of a parent parabolic mirror. They achromatically focus a collimated beam, and their all-reflective design eliminates phase delays and absorption losses introduced by transmissive optics and makes them well suited for use with femtosecond pulsed lasers.
The angle between the focused beam and the collimated beam (off-axis angle) is 90°. As shown in the diagram to the left, the propagation axis of the collimated beam to be reflected should be normal to the base of the substrate to achieve a proper focus. The diamond-turned parabolic surface has protected silver coating which provides an average reflectance of >96% from 450 nm - 20 µm (see the Graphs tab for plots of the coatings' performance).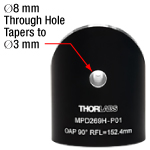 Click to Enlarge
Back View with Tapered Hole
The OAP mirrors are fabricated using aluminum substrates. The non-optical surfaces are black-anodized and laser-engraved with the item number for easy identification. The interior of the conical bore is not anodized.
Care and Handling
Silver coated mirrors require additional care due to their susceptibility to damage from environmental conditions and improper handling. Fingerprints, contact with abrasive surfaces, and environments with high humidity or temperature will diminish the effectiveness of the protective overcoat leaving the silver coating susceptible to oxidation and degradation. When working with silver mirrors, follow standard practices for handling optics. Latex gloves or similar protective coverings are recommended to prevent oil and other residues on the user's fingers from reaching the optical surface. Even with such precautions, care should be taken not to touch the mirrored face or edges. Silver mirrors should be used and stored in areas at room temperature with minimal humidity. For information on how to clean mirrors and other optics, visit our Optic Cleaning Tutorial.
Application Notes
These optics are often used in electro-optic sampling measurements and other pump-probe experiments, such as time-resolved terahertz spectroscopy (TRTS). In these experiments, it is necessary to illuminate the electro-optic crystal with a pump beam passing through the mirror so that it overlaps with the focus of the THz probe beam that is reflected off of the surface of the parabola, as shown in the diagram to the right.
Off-Axis Parabolic Mirrors Selection Guidea
Mirror Coating
(See Graphs Tab
for Reflectance)
Wavelength
Range

90° Off-Axis

15°, 30°, 45°, 60° Off-Axis

90°, Hole Parallel to
Focused Beam

90°, Hole Parallel to
Collimated Beam
UV-Enhanced Aluminum
250 nm - 450 nm
Customb
Protected Aluminum
450 nm - 20 µm
Protected Silver
450 nm - 20 µm
Customb
Protected Gold
800 nm - 20 µm
Unprotected Gold
800 nm - 20 µm
Customb

Click to Enlarge
Common Specifications
Metallic Coating
Protected Silver
Reflectance (Average)
>97% from 450 nm to 2 µm
>96% from 2 µm to 20 µm
Off-Axis Angle
90°
Clear Aperture
>90% of Diametera, Not Including Hole
Hole Orientation
Horizontal
Hole Diameter
3 mm on Coated Surface
8 mm on Back of Substrate
Surface Roughness (RMS)
<100 Å
Surface Quality
40-20 Scratch-Dig
Parent Focal Length Tolerance
±1%
Reflected Focal Length Tolerance
±1%
Bottom Mounting Holes
8-32 Taps in Radial Pattern (3 Places)
Substrate
Aluminum
Manufacturing Process
Diamond Turned
Item #
Diametera
Thicknessa
Reflected Focal Lengtha
Parent Focal Lengtha
Reflected Wavefront Error (RMS)
MPD249H-P01
2" (50.8 mm)
2.47" (62.8 mm)
4" (101.6 mm)
2" (50.8 mm)
<λ/4 at 633 nm
MPD269H-P01
2" (50.8 mm)
2.47" (62.8 mm)
6" (152.4 mm)
3" (76.2 mm)
MPD369H-P01
3" (76.2 mm)
3.47" (88.2 mm)
6" (152.4 mm)
3" (76.2 mm)
<λ/2 at 633 nm
MPD399H-P01
3" (76.2 mm)
3.47" (88.2 mm)
9" (228.6 mm)
4.50" (114.3 mm)
The shaded region in the graph denotes the range over which we guarantee the specified reflectance. Please note that the reflectance outside of this band is typical and can vary from lot to lot, especially in out-of-band regions where the reflectance is fluctuating or sloped.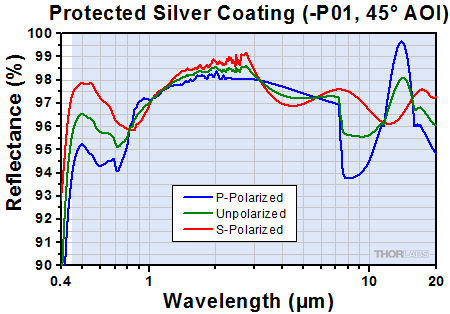 Click to Enlarge
Excel Spreadsheet
with Raw Data for Protected Silver
---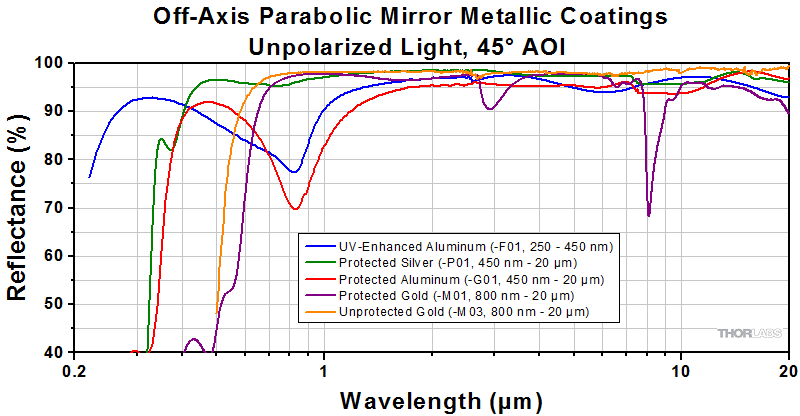 Excel Spreadsheet
with Raw Data for Our Metallic Coatings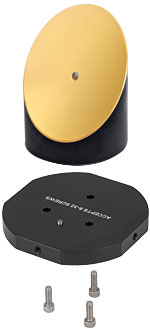 Click to Enlarge
Mounting Adapter Installation
Mounting Adapters
The bottom of each off-axis parabolic mirror contains three tapped mounting holes in a triangle pattern and an alignment hole. These holes are used to attach our Mounting Adapters, which contain three corresponding counterbores and an alignment pin. Together, these features allow our OAP mirrors to be securely mounted to our extensive selection of optomechanical components. The tapped holes are also useful in OEM applications.
For our Ø2" OAP mirrors, we offer three types of mounting plates. The first type is designed to be mounted in any Ø3" mirror mount. The second type, designed for post mounting, contains an 8-32 (M4) tapped hole on all four sides for direct mechanical compatibility with Ø1/2" Posts. The third type is externally SM2-threaded for direct compatibility with any internally SM2-threaded components, such as our rotation mounts.
Our Ø2" OAP mirrors can also be adapted to our SM threads by placing them into our SM Thread to Double Bore Adapters. This adapter allows rotation of the OAP mirror with respect to the adapter prior to securing its position, whereas when using the SM-threaded adapters offered on this page, the final location of the OAP mirror is dictated either by the threads themselves (when fully threaded into a mount) or by using the provided retaining ring to secure it in place.
We do not currently offer a mounting adapter for the Ø3" OAP mirror. However, it can be directly mounted in our KS3 Precision Kinematic Mirror Mount.
Selecting a Mirror Based on Desired Output Beam Diameter
When using an off-axis parabolic mirror to collimate a point source, selection of the appropriate mirror is often done based on the desired output beam diameter. Beam diameter can be calculated very easily using the divergence half-angle of the incident light (Θ) and the reflected focal length of the OAP mirror. To calculate the beam diameter in the small angle approximation, use the following equation:
Beam Diameter = 2 x sin(Θ) x Reflected Focal Length
If you are collimating from a fiber, the equation can be rewritten as:
Beam Diameter = 2 x NA (Fiber) x Reflected Focal Length
The table below lists the output beam diameter as a function of the reflected focal length of the mirror and the divergence half-angle of the incident light. Not listed here is the diameter of the OAP mirror. The clear aperture of the OAP mirror you select should be larger than the desired beam output diameter.
Reflected Focal Length
Beam Diameter
2.5° Source Divergence
5° Source Divergence
7.5° Source Divergence
10° Source Divergence
2" (50.8 mm)
4.4 mm
8.9 mm
13.3 mm
17.6 mm
4" (101.6 mm)
8.9 mm
17.7 mm
26.5 mm
35.3 mm
6" (152.4 mm)
13.3 mm
26.6 mm
39.8 mm
52.9 mm
9" (228.6 mm)
19.9 mm
39.8 mm
59.7 mm
79.4 mma
Custom Off-Axis Parabolic (OAP) and Aspheric Mirrors
Key Capabilities
Nanotech® 450UPL Ultra Precision 3-Axis CNC Diamond Turning Lathe for Individual Custom Mirrors
Custom Sizes, Focal Lengths, Substrates, Coatings, and Clearance Holes
Off- and On-Axis Parabolic, Conical, and Toroidal Mirrors
Biconic Surfaces and Irregular Aspheric Optics

Thorlabs' advanced single-point diamond turning capabilities allow us to produce custom OAP and aspheric mirrors in small quantities. We can produce long focal length and large diameter optics, as well as optics with custom shapes.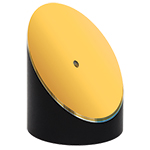 Click to Enlarge
We offer OAP mirrors with custom sizes, focal lengths, substrates, coatings, and clearance holes.
In addition to our stock off-axis parabolic (OAP) mirrors, Thorlabs is also capable of manufacturing a variety of custom aspheric mirrors. Our unique single-point diamond turning (SPDT) capabilities allow us to produce these customs in low quantities at prices that are comparable with our stock offerings. As shown in the video to the right, we engage the slow-slide-servo process of our SPDT machine to polish individual off-axis mirrors by synchronizing the rotational position of the spindle with the linear position of the translation axes.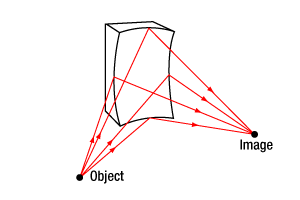 Click to Enlarge
Toroidal mirrors have two different radii of curvature and are used to image off-axis points without introducing astigmatism.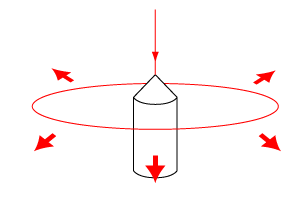 Click to Enlarge
Conical mirrors provide 360° of illumination.
This unique manufacturing capability allows us to provide OAP mirrors with custom reflected focal lengths and diameters, including long-focal-length and large-diameter optics that cannot be produced by conventional two-axis machining. In addition, we can produce OAP mirrors with a variety of custom substrates (including copper), custom coatings, and custom hole sizes and shapes. The use of copper substrates and other advanced techniques also allow us to offer OAP mirrors with enhanced finishes that exhibit less surface roughness than our our stock products, resulting in improved wavefront quality.
Our SPDT competency also enables us to produce mirrors with other custom biconic surfaces and aspheric shapes, including on-axis parabolic, conical, and toroidal mirrors. These custom mirror shapes can be used in a wide variety of optical instruments and specialized imaging systems. For example, toroidal mirrors, which are used to image off-axis points without introducing astigmatism, are commonly used in compact Czerny-Turner monochromators. Conical mirrors, on the other hand, are ideal for non-imaging applications that require 360° of uniform illumination.
We are generally able to produce custom OAP mirrors and aspheric mirrors with short lead times. For modifications to an existing part, delivery in 4-6 weeks is standard. For custom shapes and long focal length optics, a 6-8 week lead time is typical. To receive more information or a quote for a custom optic, please contact Tech Support.
Our engineers are available to help manufacture optics for your application.
Customs are available in low quantities at prices that are comparable with our stock catalog products.
Please contact techsupport@thorlabs.com with your custom optic requests.