Key Specifications
Adjustment Range
Pitch: ±2.5°
Yaw: ±4.05°
Minimum Incremental Movementa
Pitch: 9 arcsec
Yaw: 16.2 arcsec
Crosstalk
<0.05° (3 arcmin)
Horizontal Load Capacity (Max)b
5.0 kg (11.0 lb)
Vertical Load Capacity (Max)c
Load Distance
from Top Platform
Max Load
30 mm (1.18")
1.8 kg (4.0 lbs)
50 mm (1.97")
1.1 kg (2.4 lbs)
80 mm (3.15")
0.7 kg (1.5 lbs)
Deck Height
25 mm (0.98")
Bushing Diameter
9.5 mm (0.375")
Weight (Including Drives)
780 g (1.72 lb)
Construction
Black Anodized Aluminum
Features
Micrometer-Operated Pitch and Yaw Adjustment
1/4"-20 (M6) Tapped Holes with 1.0" (25.0 mm) Spacing
Combine with Linear Stages to Add Rotational Adjustment
0.98" (25.0 mm) Deck Height
Compact Footprint Measuring 6.42" x 4.53" x 0.98" (163 mm x 115 mm x 25 mm) with Adjusters
Black Anodized Aluminum Construction
This High-Load Pitch and Yaw Platform provides ±2.5° of adjustment in pitch and ±4.05° in yaw. It is designed for use with up to 5 kg (11 lb) loads, such as lasers, cameras, and 3-axis stages. The actual maximum load will depend on the positioning of the load on the platform (see the Specs tab for more details). The top platform is equipped with an array of 24 1/4"-20 (M6) threaded mounting holes on 1" (25 mm) centers.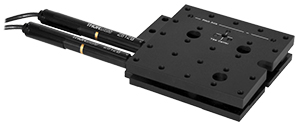 Click to Enlarge
PY004 Stage Fitted with
Z812B
DC Servo Actuators
(Sold Separately)
The high-resolution micrometers incorporated into the stage are marked with a vernier scale and provide positioning accuracy within 9 arcseconds in pitch and 16.2 arcseconds in yaw. Turning the micrometers gives 0.25° of pitch and 0.45° of yaw per revolution. Additionally, this stage is compatible with other micrometers with a Ø3/8" mounting barrel. The stage can also be motorized using our 1/2" travel actuators with Ø3/8" mounting barrels, such as Thorlabs Z812B DC Servo Actuators (shown to the left) or ZST213B Stepper Motor Actuators.
The base of the pitch and yaw platform is provided with a series of through holes for attachment to metric or imperial optical tables and breadboards. These holes allow the unit to be mounted with the top platform holes in line with the worksurface hole pattern or midway off the table's hole pattern. The unit can also be secured at any arbitrary position by using two CL6 table clamps.