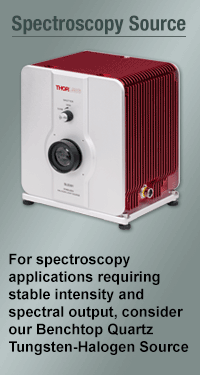 Features
Broadband Emission from 400 to 2200 nm
Internal SM2 (2.035"-40) Threads Compatible with Our Ø2" Lens Tubes
Bottom-Located 8-32 (M4) Tap for Ø1/2" Post Mounting
Adjustable Bulb Position for Optimizing Illumination Conditions
Includes Condenser Lens, SM2-Threaded End Cap, and Universal Power Supply
Replacement Bulbs Available
Thorlabs' Quartz Tungsten-Halogen Lamp is a versatile general-purpose light source for alignment, testing, and illumination needs. Packaged in a compact Ø2.20" (Ø55.9 mm) housing with a built-in heat sink, it contains internal SM2 (2.035"-40) threading on both sides for direct compatibility with our Ø2" lens tube accessories, as well as an 8-32 (M4) tap for use with our Ø1/2" posts.
With broadband emission in the visible and NIR spectral ranges, this incoherent light source is ideal for aligning a wide range of setups without introducing laser light. It can also be used in combination with a CCD Spectrometer to characterize lenses, filters, or other optical elements.
This white-light lamp ships ready for use with two externally SM2-threaded end caps and a condenser lens (Item # ACL5040U) that has been mounted in an internally-threaded SM2 housing using an SM2RR retaining ring. The front cap is knurled for easy removal by hand, while the back cap can be removed with a SPW909 or SPW801 spanner wrench (not included). A setscrew that accepts a 0.05" hex key (included) is exposed when the rear cap is removed, allowing the bulb's receptacle to be adjusted to maximize imaging quality and light collection without having to remove the condenser lens or other attached optics. The receptacle's vertical adjustment range is 0.15" (3.8 mm). To power the bulb, a universal power supply (90 - 264 VAC) with plugs for all regions is included. Replacement bulbs (Item # QTH10B) are available below.
Please note that the lamp should not be operated without the rear end cap and condenser lens, as the bulb's surface will be hot to the touch. After warming up, the heat sink will reach a temperature of 50 °C.
If your application would benefit from stabilized output power or a stabilized spectrum, we also offer a Benchtop Quartz Tungsten-Halogen Source as well as Compact Fiber-Coupled Broadband Light Sources. If a higher color temperature is desired, our color-balancing filters can be used to attenuate red light from the QTH10(/M) light source while passing blue light. This results in a beam with a higher color temperature and lower total power.
Specifications
Optical Output Powera
50 mW (Typical)
Bulb Type
Quartz Tungsten-Halogen Bulbb
Color Temperature
2800 K (Typical)c
Lifetime
2000 Hours
Bulb Voltage
12 VDC
Bulb Power
10 W
Bulb Socket
G4 2-Pin Baseb
Included Power Supply
Input: 90 - 264 VAC, 50 - 60 Hz
Output: 12 VDC
Output Connector: 2.1 mm ID x 5.5 mm OD x 9.5 mm Long (Female)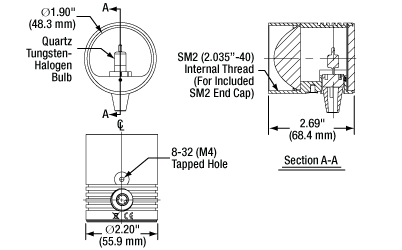 Click for Details
Schematic of QTH10(/M) Lamp